Find all your waterfront dreams and summer smiles in these gorgeous designs.
Dear Knitting Enthusiast,
Summer is about sun and fun. Blue waters, green fields, colorful wildflowers, and the soft colors of sunsets fill our days. Even with sunny days, though, summer evenings can have a little chill in the air. Even some summer days call for a little something extra to cover up.
That's why it's always good to have a favorite summer sweater or two in the closet. You know them. They're just warm enough to keep away the chill, but light and lacy enough to be a comfortable addition to your outfit.
A knit sweater is the ultimate in cool summer comfort. And this collection of 15 designs is sure to help you find and knit your new favorite.
The Summer-Ready Sweaters To Knit Collection is filled with the soft yarns and flattening designs that make summer such a fun season for fashion. Here's a look at some of the patterns in this collection.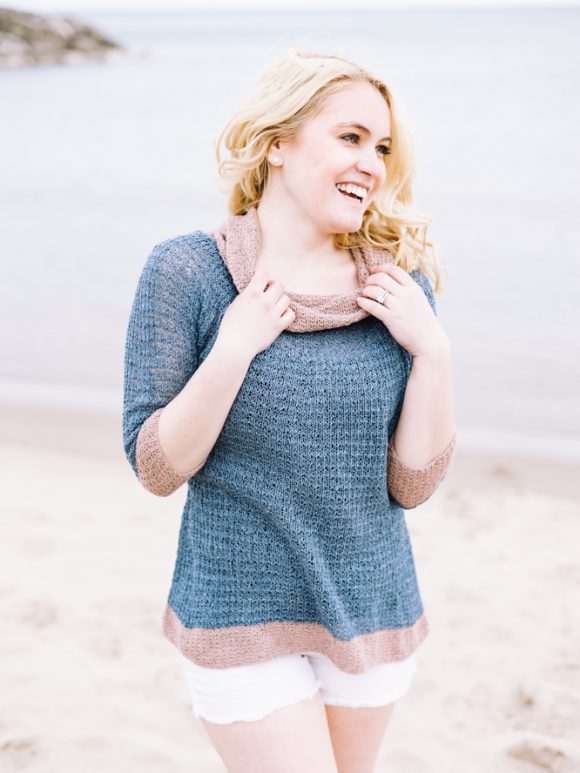 The Shalee Summer Sweater is the perfect layer for cool summer days. The silk and wool yarn is exceedingly comfortable and the light colors make an effortlessly chic pick for a casual outing. The three-quarter length sleeves and wider neckline will keep you warm when evening breezes roll in.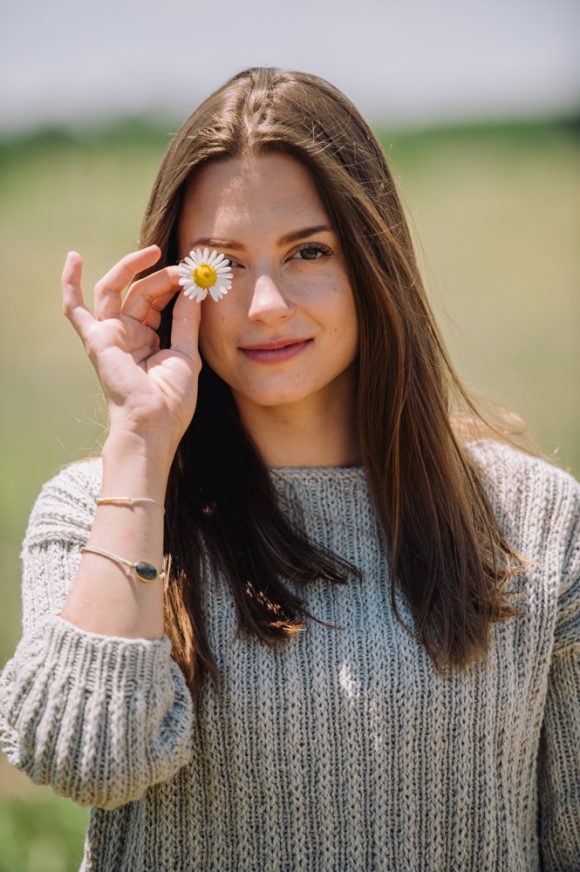 From designer Nadya Stallings comes the Sonnet Sweater. This cozy, comfortable ribbed sweater is the perfect late-summer attire. The Merino wool and cotton yarn in casual gray produces a beautiful and texturally soft sweater and goes well with almost anything in your closet. This design is worked in pieces from the bottom up, and the sleeves are worked from dropped shoulder armholes down.
Knitting Success is Yours
The Summer-Ready Sweaters To Knit Collection has something perfect for your wardrobe. You'll find the fun Water's Edge Tunic, with shifting green and blue shades inspired by the gently flowing waters of a cool forest stream. Or enjoy the sky blue Knit in a Splash Pullover, with just enough warmth to keep you cozy on a late summer night. For something fun that will challenge your knitting skills, take a look at the Pistachio Pullover, with a unique construction that will help you push you to new levels of knitting mastery.
And remember, the patterns in this collection, like every pattern we publish in I Like Knitting, comes complete with:
A full list of all yarn and tools
Row by row instructions
Special stitch instructions
Pattern notes
Detailed, full-color photography
You'll be knitting new and exciting designs in no time. Check out some more of the patterns in The Summer-Ready Sweaters To Knit Collection.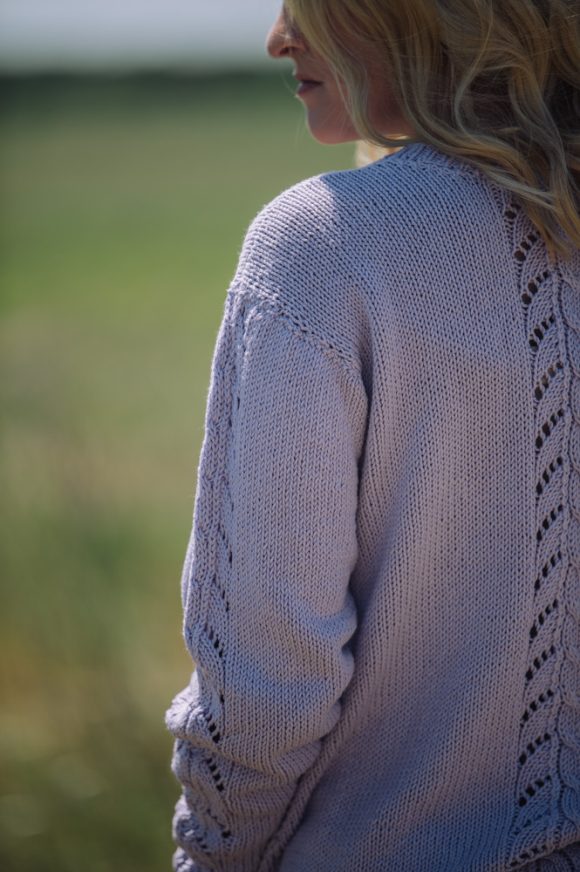 The Fiorella Lace & Cable Sweater is a classic design from Nazanin Fard. The sweater has a cable and lace pattern worked on the front and back, as well as the sleeves for plenty of visual interest. And the yarn is the perfect weight to take you from late-summer into fall in complete comfort.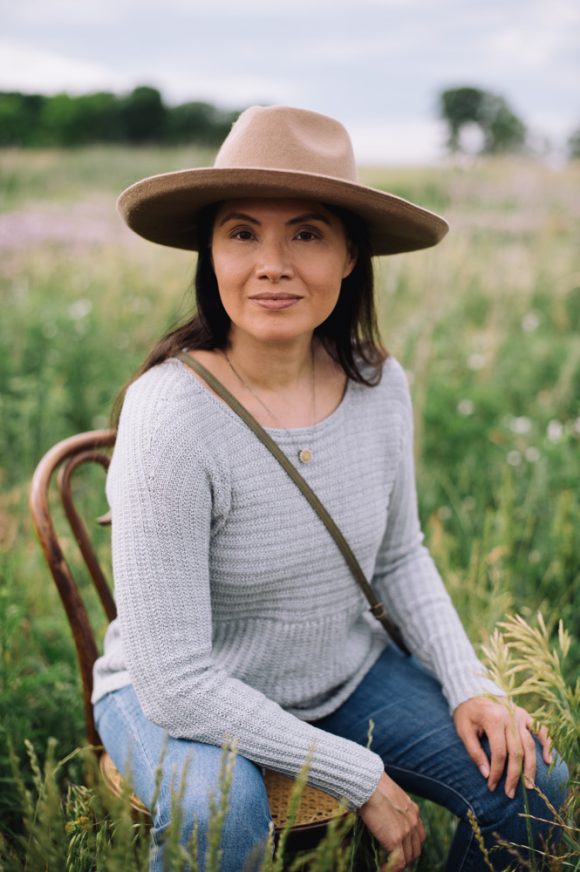 Donna Estin brings us the Lillemor Sweater, designed with a playful spirit and plenty of comfort in mind. The luxurious extra-fine Merino wool and silk sweater features an exaggerated design of horizontal lines that run cuff to cuff in a sideways pattern. The subtle texture and soft, tactile feel of this sweater is sure to make it one of your favorites.
The Summer-Ready Sweaters To Knit Collection has just what you need to move comfortably from summer into fall and beyond. This I Like Knitting collection includes something for every skill level and style.
Smooth sailing: The Caribbean Waters Pullover features a subtly shifting diamond pattern reminiscent of crystal blue tropical water.
Light and lacy: The lace pattern of the Elderberry Leaves Cardigan is a fun and challenging knit that will give you a lightweight and adorable garment.
Easy breezy: The wavy lace pattern of the Waterfront Pullover gives this lightweight sweater a stylish look, while the bamboo, cotton, and linen yarn will make you feel like you're floating.
Don't wait until cool weather creeps in. Start on your next summer sweater today and you'll be ready just in time for cooler temperatures.
But this is just a fraction of what you'll get with an I Like Knitting Gold Club Charter Membership—your membership includes subscriptions to the I Like Knitting Magazine Club and to the I Like Knitting Collections Club; full and immediate access to the digital library of 5+ years of magazine issues with 600+ knitting patterns and articles; step-by-step instructions for patterns; and video tutorials and full-color photographs for details about projects and stitches. Plus, FREE access to our two premium on-demand knitting videos, 9 Knitting Tutorials: Tips and Tricks for Knitters Old and New and Knitting Outside the Box: 3 Unexpected Stitch Tutorials.
Your I Like Knitting Gold Club Charter Membership gives you access to all of our knitting patterns and content, 24-hours-a-day on whatever device you prefer —desktop, or laptop. And the content is fully searchable, so you can find exactly what you want—when you want it—at your fingertips in an instant.
Here are just a few of the tantalizing patterns sitting in our library right now—and all contained in a single issue—to which you'll get instant access when you join the I Like Knitting Gold Club as a Charter Member:
Apple Leaves Sweater
Crisp Morning Cardigan
Spooky Cute Kitty Costume
Campfire Coals Cow
Macintosh Vest
Aspen Sweater
Cranberry Twist Sweater
The Touchdown Knit Scarf
Tailgating Messy Bun Hat
Alpine Cardi
Mountain Air Infinity Scarf Knitting Pattern
And the library of photos and video tutorials is gorgeous, inspiring, and practical— showing you exactly how your finished patterns should look and exactly how to execute stitches and patterns, even the difficult ones!
When you join our #1 community for knitting-lovers, you'll receive all of the handy benefits that knitters everywhere have been buzzing about:
You'll learn new stitch techniques with a variety of patterns that range from beginner to advanced.
You'll find expert tips and tricks that will help you achieve professional results.
You'll start getting requests for your stunning knitted items from your family and friends.
You'll have access to renowned designer patterns and tutorials from all over the world.
You'll never worry about mistakes in patterns or ripping out your progress because our tech-edited patterns are curated from trusted designers in the knitting community.
You'll be connected to an online community of knitters who are just as passionate as you!
Don't miss out on this exclusive Charter Membership offer to get all of the above and more!
When you activate your I Like Knitting Gold Club Charter Membership today, you'll get access to everything we have about knitting—all access and all the time:
A full year of upcoming issues of I Like Knitting magazine—Including 150+ exclusive designer knitting patterns and articles with step-by-step instructions, video tutorials and full- color photography for details of projects and stitches
Instant access to EVERY issue we've ever published—a vast library of more than 5 years of issues with 600+ patterns and articles
A full-year's subscription to the I Like Knitting Collections Club that includes 60 NEW and trendy patterns refreshed annually
Regular e-newsletters, full of the latest knitting tips & tricks and even more FREE patterns
NEW! Free Bonus! Instant access to our just-released on-demand streaming knitting videos, 9 Knitting Tutorials: Tips and Tricks for Knitters Old and New and Knitting Outside the Box: 3 Unexpected Stitch Tutorials—featuring patterns and tips for knitters of every skill level.
And here's what you don't get when you become a Charter Member of the I Like Knitting Gold Club—advertisements! That's right, we're advertising-free, so that we can devote more time, space, and effort to helping you be an awesome knitter.
All of this is available to you—right now—when you claim your I Like Knitting Gold Club Charter Membership. This special offer includes FREE unlimited access to our two streaming knitting videos, 9 Knitting Tutorials: Tips and Tricks for Knitters Old and New and Knitting Outside the Box: 3 Unexpected Stitch Tutorials…our gift for signing up now!
No other online magazine in the world has everything about knitting, all in one place and vetted and curated for your easy access and use.
Knitters everywhere have been enjoying I Like Knitting magazine for years, and now it's better than ever with more benefits, patterns, and content than you could ever imagine—with an I Like Knitting Gold Club Charter Membership.
When we first put this new club together for knitters like you, your needs and desires were top-of-mind. We're the ultimate resource and network for knitters everywhere, offering original designer patterns and content from authoritative and respected voices in the knitting world.
I think you'll agree that this really is an unusual offer, plus FREE access to our two premium streaming knitting videos when you become an I Like Knitting Gold Club Charter Member today! It's an incredible deal that you don't want to ignore!
Why not be among the select group of knitters to join us today and benefit from all the valuable information about knitting that you can't get anywhere else?
Become an I Like Knitting Gold Club Charter Member today—while this special offer lasts!
Happy knitting,

Caitlin Eaton
Editor, I Like Knitting Magazine
P.S. – Please join today so you can take advantage of this special Charter Membership offer, plus two FREE knitting videos!