Get 18 perfect patterns for mom to help her celebrate this Mother's Day!
Dear Knitting Enthusiast,
When I was a kid, I was always so excited to give my mom a handmade Mother's Day gift. Usually that meant something I'd colored the day before. She would hang it on the refrigerator and praise my artistic endeavors. I'm happy to say that my gift-giving has grown up with me, though I still get excited to make a hand-knitted shawl or tote for Mother's Day.
In the spirit of celebrating all that moms do, we put together a collection of some of our favorite handmade gifts for mom in The Mother's Day Knitting Collection. You'll find 18 patterns here from stylish favorites to projects you can personalize just for mom.
From soft wool socks to classic shawls, here is a look at some of the patterns in The Mother's Day Knitting Collection.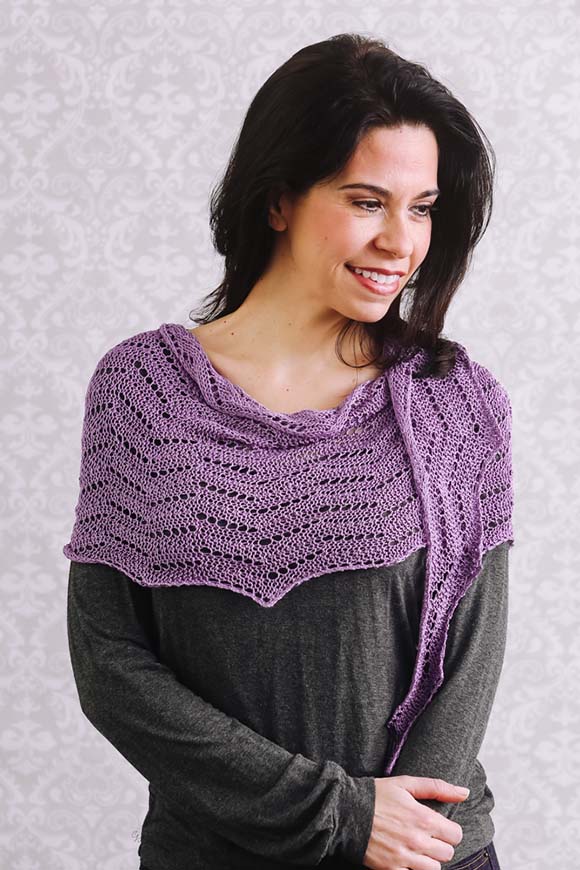 Inspired by gentle ocean waves, the Gentle Waves Lace Shawl, from designer Lana Jois, features a lace pattern that highlights the beauty of the yarn you use. This pattern features 100% silk yarn in soothing lavender, but this one-skein design will look great in any color.
This shawl is knit sideways with an increasing width up to the halfway mark after which it decreases. Subdued and elegant, this shawl is destined to be a favorite in any wardrobe.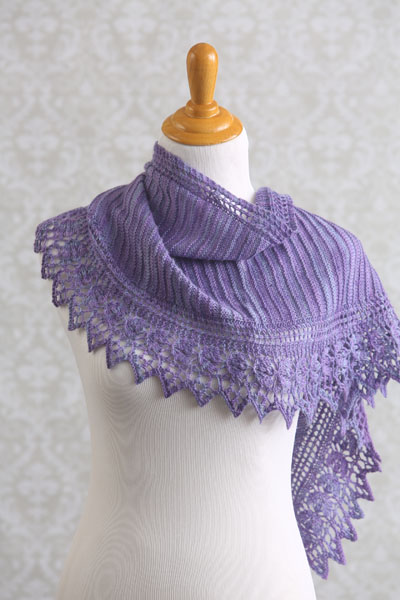 Like the Gentle Waves Lace Shawl, the Violet Buttercup Shawl is worked sideways with an increasing then decreasing pattern. The slender, crescent shape is inspired by the violet buttercup flower, making it perfect for spring. The tonal coloring of the merino wool and nylon yarn brings a unique flavor that never fails to capture your attention. This is a Mother's Day gift mom is sure to love.
The Path to Knitting Success
The patterns in The Mother's Day Knitting Collection are perfect for mom and perfect for you. These designs are easy to knit, so beginning knitters can feel accomplished and experienced knitters can relax and have some fun.
Every pattern in this collection, and in fact, every pattern we publish in I Like Knitting, comes complete with:
A full list of all yarn and tools
Row by row instructions
Special stitch instructions
Pattern notes
Detailed, full-color photography
It really is as easy as possible to create stunning pieces. Check out some more of the patterns in The Mother's Day Knitting Collection.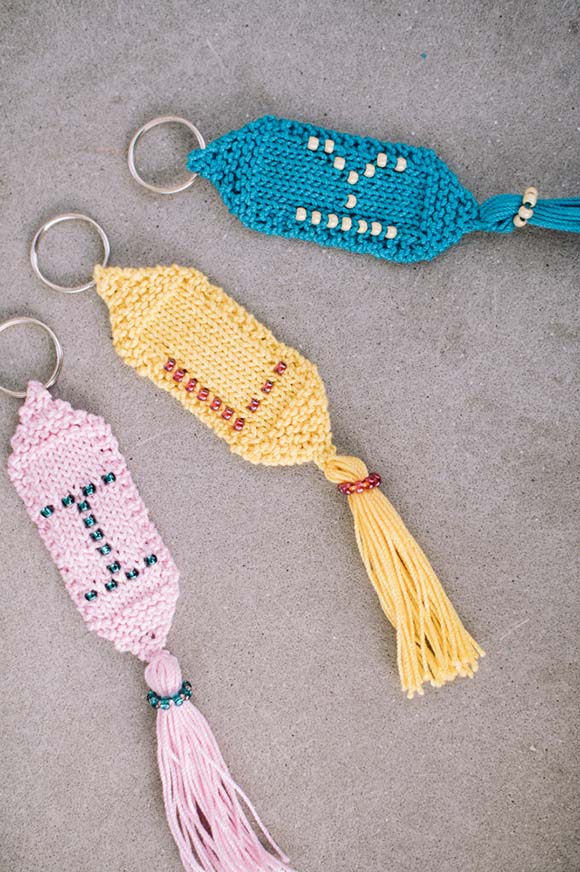 Colorful and easy to personalize, the Beaded Initial Keychain is a great gift. It's also an excellent way to use up some of that extra yarn you have lying around. And since you can make these in about an hour, it's perfect if you need an extra last-minute gift.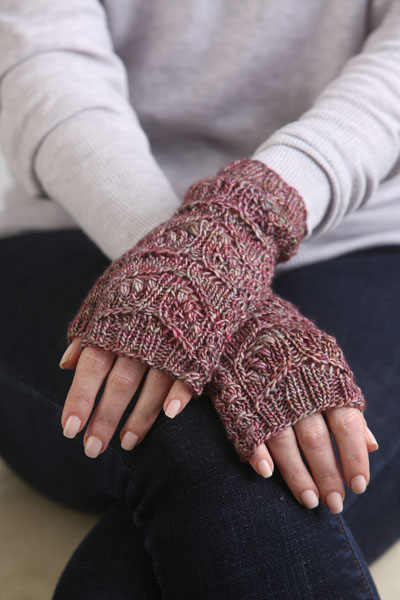 Mother's Day might mean spring, but there are still some chilly mornings and evenings. These Mock Cabled Mitts, from designer Quenna Lee, are warm and soft, thanks to the 100% merino wool yarn. Eyelets and mock cables provide textural interest that's guaranteed to bring compliments.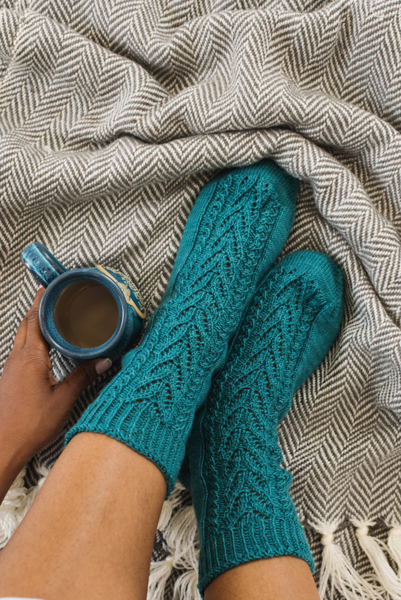 We love mittens, but feet deserve to be warm and stylish, too! The Mint Teal Leaves Socks are just the thing. This pattern is designed specifically for this beautiful green merino wool yarn, reminiscent of the beautifully rich color of mint tea leaves. The design has a center stitch pattern of stacked leaves bordered by water droplets.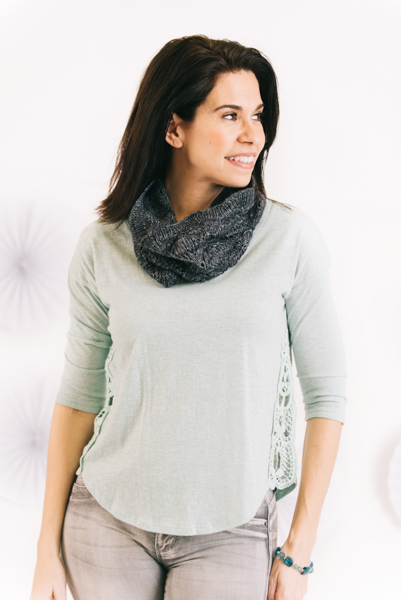 Wool socks will keep your feet happy, but a cozy cowl is always a nice wardrobe essential. Designer Deepika brings us the understated Lotus Cowl. The delicate piece is enhanced by rows of detailed lotus-like lace. It's designed to fit snug, but it's also easy to customize for a longer length.
Make Mother's Day special. The projects in The Mother's Day Knitting Collection include classics like shawls and scarves, or fun accessories perfect for anyone new to knitting. And for experienced crafters, you'll find some advanced level patterns that will challenge and excite you. And, naturally, mom will love any and all of them.
Quick and fun: For an easy, one-day project, the Blue Echeveria Shoulder Bag is your go-to. Made with silk and wool, you'll love making this just because it feels so good to work with the yarn!
Challenging and unique: Even as an advanced level project, the Pistachio Pullover is fun to knit. Plus it's knit top down, so you can try it on as you go.
Light and lively: With an eight-row repeat and delicate design, the Horseshoe Lace Scarf is the perfect spring accessory. The sky blue yarn features an airy motif that invokes feelings of carefree afternoons and a light spring breeze.
Elegant and simple: If you're new to knitting tops, the Orchid Tee is the perfect place to start. The design is classy and sophisticated without being too intimidating, while the cotton and linen yarn is a dream to work with.
Make this Mother's Day special with a one-of-a-kind handmade gift. These knits are fun to receive — and fun to make!
But this is just a fraction of what you'll get with an I Like Knitting Gold Club Charter Membership—your membership includes subscriptions to the I Like Knitting Magazine Club and to the I Like Knitting Collections Club; full and immediate access to the digital library of 5+ years of magazine issues with 600+ knitting patterns and articles; step-by-step instructions for patterns; and video tutorials and full-color photographs for details about projects and stitches. Plus, FREE access to our two premium on-demand knitting videos, 9 Knitting Tutorials: Tips and Tricks for Knitters Old and New and Knitting Outside the Box: 3 Unexpected Stitch Tutorials.
Your I Like Knitting Gold Club Charter Membership gives you access to all of our knitting patterns and content, 24-hours-a-day on whatever device you prefer —desktop, or laptop. And the content is fully searchable, so you can find exactly what you want—when you want it—at your fingertips in an instant.
Here are just a few of the tantalizing patterns sitting in our library right now—and all contained in a single issue—to which you'll get instant access when you join the I Like Knitting Gold Club as a Charter Member:
Apple Leaves Sweater
Crisp Morning Cardigan
Spooky Cute Kitty Costume
Campfire Coals Cow
Macintosh Vest
Aspen Sweater
Cranberry Twist Sweater
The Touchdown Knit Scarf
Tailgating Messy Bun Hat
Alpine Cardi
Mountain Air Infinity Scarf Knitting Pattern
And the library of photos and video tutorials is gorgeous, inspiring, and practical— showing you exactly how your finished patterns should look and exactly how to execute stitches and patterns, even the difficult ones!
When you join our #1 community for knitting-lovers, you'll receive all of the handy benefits that knitters everywhere have been buzzing about:
You'll learn new stitch techniques with a variety of patterns that range from beginner to advanced.
You'll find expert tips and tricks that will help you achieve professional results.
You'll start getting requests for your stunning knitted items from your family and friends.
You'll have access to renowned designer patterns and tutorials from all over the world.
You'll never worry about mistakes in patterns or ripping out your progress because our tech-edited patterns are curated from trusted designers in the knitting community.
You'll be connected to an online community of knitters who are just as passionate as you!
Don't miss out on this exclusive Charter Membership offer to get all of the above and more!
When you activate your I Like Knitting Gold Club Charter Membership today, you'll get access to everything we have about knitting—all access and all the time:
A full year of upcoming issues of I Like Knitting magazine—Including 150+ exclusive designer knitting patterns and articles with step-by-step instructions, video tutorials and full- color photography for details of projects and stitches
Instant access to EVERY issue we've ever published—a vast library of more than 5 years of issues with 600+ patterns and articles
A full-year's subscription to the I Like Knitting Collections Club that includes 60 NEW and trendy patterns refreshed annually
Regular e-newsletters, full of the latest knitting tips & tricks and even more FREE patterns
NEW! Free Bonus! Instant access to our just-released on-demand streaming knitting videos, 9 Knitting Tutorials: Tips and Tricks for Knitters Old and New and Knitting Outside the Box: 3 Unexpected Stitch Tutorials—featuring patterns and tips for knitters of every skill level.
And here's what you don't get when you become a Charter Member of the I Like Knitting Gold Club—advertisements! That's right, we're advertising-free, so that we can devote more time, space, and effort to helping you be an awesome knitter.
All of this is available to you—right now—when you claim your I Like Knitting Gold Club Charter Membership. This special offer includes FREE unlimited access to our two streaming knitting videos, 9 Knitting Tutorials: Tips and Tricks for Knitters Old and New and Knitting Outside the Box: 3 Unexpected Stitch Tutorials…our gift for signing up now!
No other online magazine in the world has everything about knitting, all in one place and vetted and curated for your easy access and use.
Knitters everywhere have been enjoying I Like Knitting magazine for years, and now it's better than ever with more benefits, patterns, and content than you could ever imagine—with an I Like Knitting Gold Club Charter Membership.
When we first put this new club together for knitters like you, your needs and desires were top-of-mind. We're the ultimate resource and network for knitters everywhere, offering original designer patterns and content from authoritative and respected voices in the knitting world.
I think you'll agree that this really is an unusual offer, plus FREE access to our two premium streaming knitting videos when you become an I Like Knitting Gold Club Charter Member today! It's an incredible deal that you don't want to ignore!
Why not be among the select group of knitters to join us today and benefit from all the valuable information about knitting that you can't get anywhere else?
Become an I Like Knitting Gold Club Charter Member today—while this special offer lasts!
Happy knitting,

Caitlin Eaton
Editor, I Like Knitting Magazine
P.S. – Please join today so you can take advantage of this special Charter Membership offer, plus two FREE knitting videos!