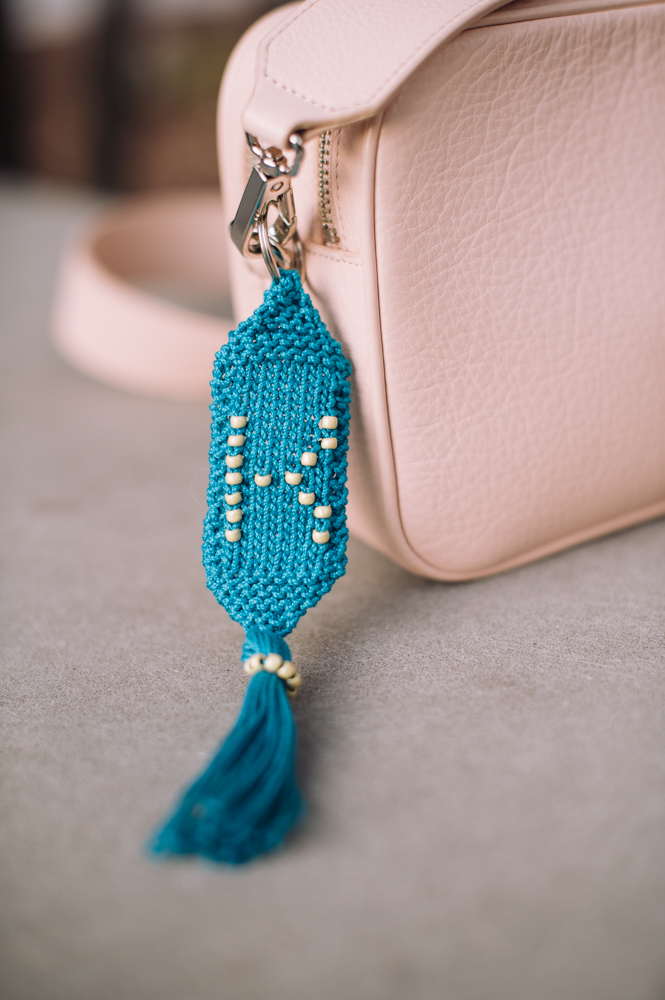 This colorful keychain is personalized with an initial and it makes for a great gift. Use up your scrap yarn and knit this easy keychain in an hour flat.
Time: 1 Hour Pattern
Skill Level: Easy
Size: 1½" wide x 3¾" long, excluding tassel
Gauge:  Gauge not important to design
Materials
Yarn: Lisbeth Size 3 crochet thread from www.hhtatting.com  (100% cotton; 120 yards /50 grams): #629 Azalea (C1, 1 ball), #616 Daffodil Med (C2, 1 ball), #665 Ocean Teal Dk (C3, 1 ball)
Needles: US size 2 (2.75 mm) dpns (2 needed)
Notions:
Beads: TOHO size 6/0 round seed beads from www.limabeads.com:
#11427 Teal with Silver Lining Round 6/0 Seed Beads (C1)
#40268 Gold Lustered Raspberry Round 6/0 Seed Beads (C2)
#58974 Permanent Galvanized (Matte) Yellow Gold (C3)
1 mm straight Verna-X Beadle Needle, 3 key rings, #22 chenille needle, hand steamer, towel, scissors
Abbreviations
LH – left hand
RH – right hand
Kfb – knit into front and back of same stitch (1 st increased)
Special Stitches
Place bead (PB): While holding Beadle needle in right hand, insert Beadle needle through indicated st on LH needle having hook at end of Beadle needle facing, keeping taut tension on stitch with Beadle needle, remove stitch from LH needle, use finger or thumb on right hand to slip bead off Beadle needle and onto stitch, turn Beadle needle until hook faces downward and remove from stitch, return st to LH needle, slip beaded st kwise onto RH needle.
Pattern Notes
Pattern is worked in rows from the bottom up.
"I" keychain is worked using C1 thread and beads.
"L" keychain is worked using C2 thread and beads.
"K" keychain is worked using C3 thread and beads.
Pattern
Using desired color (see Pattern Notes), beg at bottom of keychain, CO 1.
Row 1: K1.
Row 2: Kfb. (2 sts)
Row 3: Kfb, k1. (3 sts)
Row 4: Knit.
Row 5: Kfb, k to last st, kfb. (2 sts increased)
Row 6: Knit.
Rows 7-12: Rep Rows 5-6 three times. (11 sts)
Row 8 (WS): K2, p7, k2.
Row 9: Knit.
Row 10: K2, p7, k2.
Row 11 (RS): Work Row 1 of desired alphabet letter chart.
Row 12: Work next row of chart.
Rows 13-23: Work Rows 3-13 according to chosen chart, ending with a RS row.
Rows 24-29: Rep Rows 8-9 three times.
Row 30 (WS): Knit.
Row 31 (RS): K2tog, k to last 2 sts, k2tog. (2 sts decreased)
Row 32: Knit.
Rows 33-38: Rep Rows 31-32 three times. (3 sts rem)
Row 39: K1, k2tog. (2 sts rem)
Row 40: K2tog. (1 st rem)
Rows 41-45: Knit.
Fasten off leaving an 8" tail.
Finishing
Place keychain WS up on towel. Use hand steamer to block keychain to measurements and allow to thoroughly dry.
Fold keychain Rows 41-45 over key ring to WS of keychain. Use needle and thread tail to sew securely.
Tassel
Using same crochet threads and beads that match keychain, wrap 1 strand thread 15 times around width/palm of hand. Remove from hand, insert a 12" length of crochet thread through one end of wraps and tie tightly to form top of tassel. Thread each end of tie through needle and insert back through tassel to bottom edge. Use needle to thread 8 beads to the center of an 18" length of crochet thread. Place tassel on center of beads having approximately 3/8" of tassel above strand. Knot tie ends tightly around tassel. Thread one end of tie through needle, insert needle under tied knot and up through top 3/8" of tassel to top, rep with second tie end. Knot ends tightly and use to sew to bottom of keychain. Trim bottom ends of tassel as desired.
---
Gold Members, Download Here
Not a gold member yet? Join Now