Feel good and look good all winter with the 11 brioche knitting patterns in this updated, hand-picked collection of favorites.
If you've ever had the good fortune to step into a French bakery, you've hopefully had the chance to experience a pastry made of brioche. Somehow rich and decadent, yet light and puffy at the same time, a brioche is a culinary miracle. Brioche knitting evokes that same light, puffy, and rich texture. The big difference, of course, is that you don't want to wear pastries and you don't want to eat your yarn.
Brioche knitting is deeply textural with wide ribs, making it wonderfully tactile, especially when you knit with a soft yarn like alpaca, Peruvian Highland wool, or superfine Merino wool.
What is brioche knitting, exactly? Brioche describes a multitude of stitch combinations, using slipped stitches and yarn overs to create stunning results. It may sound a little complicated, and it can be a little slow to get started. But it really does get easier and faster with practice. And our updated Brioche Knitting Collection: 11 Beautiful Patterns includes a detailed tutorial with plenty of pictures, so you can get started right away.
What else is in this collection? There's a gorgeously textured monochrome scarf that's sure to impress. You'll find a cozy infinity scarf in eye-catching shades of turquoise. And there's a super warm brioche cowl that happens to be reversible, so you get two pieces in one!
The Brioche Knitting Collection: 11 Beautiful Patterns has everything you need to get started with this charming style of knitting. Plus, of course, you also get the more than 700 patterns available in our library.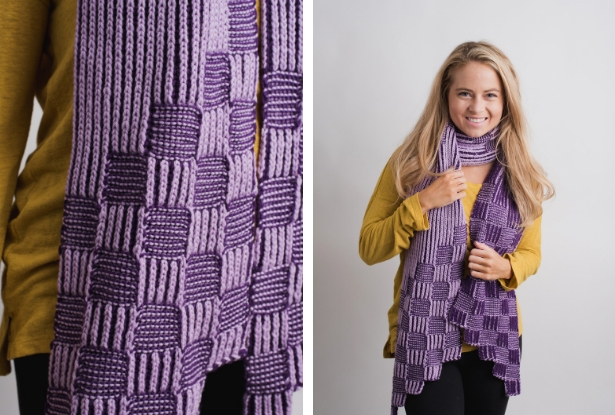 Hadley Checkerboard Brioche Scarf
I don't know any other way to say it; this scarf is absolutely stunning. The Hadley Checkerboard Brioche Scarf uses two-color brioche knitting and garter stitch to form a tiered checkerboard pattern on each end of the scarf. The extra fine Merino wool, in orchid and plum colors, is so soft you'll want to cuddle with this scarf on chilly winter nights. I'm really not kidding when I say that this pattern, from Quinny Zhang, is simply stunning.
In fairness, though, we are lucky to have some amazingly talented creators in our midst. And it's not hard to find a pattern like this one that reopens your eyes to the beauty of knitting. Sometimes it's an unusual color pattern, or a new way of blending classic patterns and colors, or finding different yarns to work with that makes this a never-ending path to fun ideas. It doesn't hurt that when we knit, we get to make something we can wear or use around the house! I also love how cozy a handmade scarf or cowl looks and feels, like the ones below.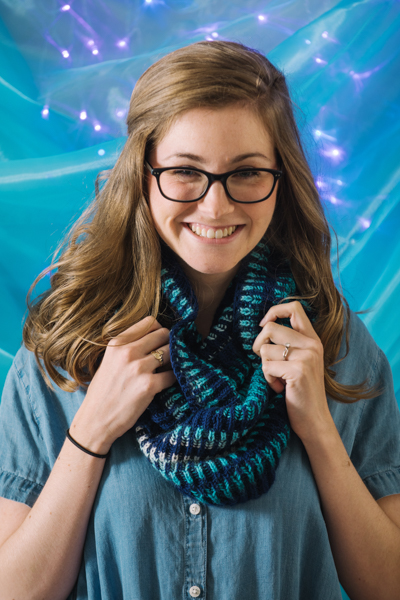 Aurora Boreale Infinity Scarf
The eye-catching Aurora Boreale Infinity Scarf features icy shades of white and blue, but it's anything but icy when you wear it. The Aurora Boreale looks great, feels great (Angora and Alpaca!), and it's guaranteed to keep you cozy. This infinity scarf is entirely worked in brioche stitch in the round.
Marilee Brioche Scarf
The Marilee Brioche Scarf gets its organic, soothing look from the gently waving lines and leaf-like motifs. The 100% Merino wool, in Adriatic and Sea Breeze, makes this scarf both enchanting and extra cozy. This is a great project for learning the art of brioche knitting!
And in case you're new to knitting, remember that every pattern in this collection, and in fact, every pattern we publish in I Like Knitting, comes complete with:
A full list of all the yarns and tools you'll need
Row by row instructions
Special stitch instructions
Pattern notes
Detailed, full-color photography
It's true, the patterns in The Brioche Knitting Collection: 11 Beautiful Patterns will challenge you to take your skills to the next level, but we'll be right here with you, with plenty of tutorials and instructions. Check out some more of the patterns in this updated collection.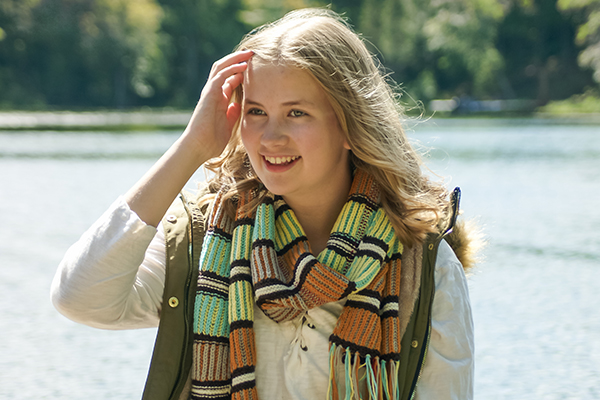 Plaid Personality Brioche Scarf
If you like some color with your texture, the Plaid Personality Brioche Scarf is a can't-miss pattern. The reversible, syncopated, four-color brioche design is a marvel, for sure. A group of garter stitches precedes each color change, making the syncopating process easy to remember.
To give this already fantastic scarf a little something extra, the garter stitches are later decorated vertically by pulling red strands of yarn through the purl bumps. Perfect for a late autumn stroll or a sunny winter day!
The Brioche Knitting Collection: 11 Beautiful Patterns brings you a hand-picked selection of beautiful projects that will help you stay warm all winter long. Plus, this collection is only one small thread in a library of more than 700 patterns, expert tips and tutorials, and many more special collections, including The Knit Mitten Collection, The Vintage Knits Collection, and The One-Skein Knitting Collection. It's all yours with your membership in the I Like Knitting Gold Club. Join us today and enjoy all this and more!
Start your next knitting project right now!
But this is just a fraction of what you'll get with an I Like Knitting Gold Club Charter Membership—your membership includes subscriptions to the I Like Knitting Magazine Club and to the I Like Knitting Collections Club; full and immediate access to the digital library of 5+ years of magazine issues with 600+ knitting patterns and articles; step-by-step instructions for patterns; and video tutorials and full-color photographs for details about projects and stitches. Plus, FREE access to our two premium on-demand knitting videos, 9 Knitting Tutorials: Tips and Tricks for Knitters Old and New and Knitting Outside the Box: 3 Unexpected Stitch Tutorials.
Your I Like Knitting Gold Club Charter Membership gives you access to all of our knitting patterns and content, 24-hours-a-day on whatever device you prefer —desktop, or laptop. And the content is fully searchable, so you can find exactly what you want—when you want it—at your fingertips in an instant.
Here are just a few of the tantalizing patterns sitting in our library right now—and all contained in a single issue—to which you'll get instant access when you join the I Like Knitting Gold Club as a Charter Member:
Apple Leaves Sweater
Crisp Morning Cardigan
Spooky Cute Kitty Costume
Campfire Coals Cow
Macintosh Vest
Aspen Sweater
Cranberry Twist Sweater
The Touchdown Knit Scarf
Tailgating Messy Bun Hat
Alpine Cardi
Mountain Air Infinity Scarf Knitting Pattern
And the library of photos and video tutorials is gorgeous, inspiring, and practical— showing you exactly how your finished patterns should look and exactly how to execute stitches and patterns, even the difficult ones!
When you join our #1 community for knitting-lovers, you'll receive all of the handy benefits that knitters everywhere have been buzzing about:
You'll learn new stitch techniques with a variety of patterns that range from beginner to advanced.
You'll find expert tips and tricks that will help you achieve professional results.
You'll start getting requests for your stunning knitted items from your family and friends.
You'll have access to renowned designer patterns and tutorials from all over the world.
You'll never worry about mistakes in patterns or ripping out your progress because our tech-edited patterns are curated from trusted designers in the knitting community.
You'll be connected to an online community of knitters who are just as passionate as you!
Don't miss out on this exclusive Charter Membership offer to get all of the above and more!
When you activate your I Like Knitting Gold Club Charter Membership today, you'll get access to everything we have about knitting—all access and all the time:
A full year of upcoming issues of I Like Knitting magazine—Including 150+ exclusive designer knitting patterns and articles with step-by-step instructions, video tutorials and full- color photography for details of projects and stitches
Instant access to EVERY issue we've ever published—a vast library of more than 5 years of issues with 600+ patterns and articles
A full-year's subscription to the I Like Knitting Collections Club that includes 60 NEW and trendy patterns refreshed annually
Regular e-newsletters, full of the latest knitting tips & tricks and even more FREE patterns
NEW! Free Bonus! Instant access to our just-released on-demand streaming knitting videos, 9 Knitting Tutorials: Tips and Tricks for Knitters Old and New and Knitting Outside the Box: 3 Unexpected Stitch Tutorials—featuring patterns and tips for knitters of every skill level.
And here's what you don't get when you become a Charter Member of the I Like Knitting Gold Club—advertisements! That's right, we're advertising-free, so that we can devote more time, space, and effort to helping you be an awesome knitter.
All of this is available to you—right now—when you claim your I Like Knitting Gold Club Charter Membership. This special offer includes FREE unlimited access to our two streaming knitting videos, 9 Knitting Tutorials: Tips and Tricks for Knitters Old and New and Knitting Outside the Box: 3 Unexpected Stitch Tutorials…our gift for signing up now!
No other online magazine in the world has everything about knitting, all in one place and vetted and curated for your easy access and use.
Knitters everywhere have been enjoying I Like Knitting magazine for years, and now it's better than ever with more benefits, patterns, and content than you could ever imagine—with an I Like Knitting Gold Club Charter Membership.
When we first put this new club together for knitters like you, your needs and desires were top-of-mind. We're the ultimate resource and network for knitters everywhere, offering original designer patterns and content from authoritative and respected voices in the knitting world.
I think you'll agree that this really is an unusual offer, plus FREE access to our two premium streaming knitting videos when you become an I Like Knitting Gold Club Charter Member today! It's an incredible deal that you don't want to ignore!
Why not be among the select group of knitters to join us today and benefit from all the valuable information about knitting that you can't get anywhere else?
Become an I Like Knitting Gold Club Charter Member today—while this special offer lasts!
Happy knitting,

Caitlin Eaton
Editor, I Like Knitting Magazine
P.S. – Please join today so you can take advantage of this special Charter Membership offer, plus two FREE knitting videos!