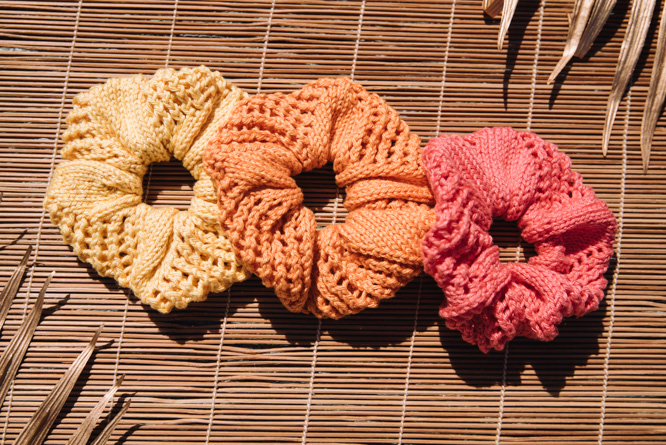 This quick knit was inspired by the vibrant sun and sand dollars found along the Central California coast. These scrunchies look perfect not only on a ponytail, but also fashionably on the wrist.
Time: Afternoon Project
Skill Level: Intermediate
Size: One Size, approximately 5″ (12.7 cm) in diameter
Gauge: 5 sts and 10 rounds = 1" [10 cm] in St st after wet blocking. (Gauge is not incredibly important for this project — a tighter gauge will create a slightly smaller final project, while a looser gauge will result in a larger, less structured scrunchie)
Materials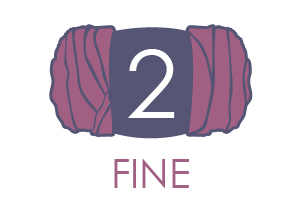 Yarn: Cascade Yarns Ultra Pima Fine (100% Pima Cotton; 136.7 yards [125 meters]/50 grams): 3767 Deep Coral (1 ball), 3748 Buttercup (1 ball), 3812 Apricot (1 ball)
Needles: 2 sets of US size 4 (3.5 mm) needles or size to obtain gauge (pattern can be worked on DPNs or a long circular for magic loop)
Notions: Tapestry needle, waste yarn, crochet hook (for provisional cast-on), 5 stitch markers, and an elastic hair tie (choose a reliable hair tie as it is very difficult to replace the hair tie once the scrunchie is complete!)
Abbreviations
BOR – beginning of round
Special Stitches
PROVISIONAL CAST-ON
With waste yarn and a crochet hook, chain required number of stitches plus 5.
Cut waste yarn, leave a 3-4" tail and pull the tail through the last chain.
Start 2-3 sts in from the end of the crochet chain, pick up and knit the stated number of stitches through the "bumps" on the back of the chain.
Begin set-up row as indicated in pattern.
Note: When "unzipping" a provisional cast-on, you will find that you have one fewer st on the cast on edge waiting to be picked up than you originally cast on. To accommodate for this missing st, this pattern casts on an extra st, and then decreases by one st in the set-up round.
Pattern Notes
This project is worked in the round. The pattern begins with a provisional cast on, a tube is knit, and the hair tie is then placed over the center of the tube. The live ends are grafted together to encase the hair tie.
Pattern
Using waste yarn and desired working yarn color, CO 91 sts using provisional cast-on.
Pm for BOR, join to work in the round, making sure not to twist.
Set-up Rnd: K1, ssk, k to BOR. (90 sts)
Chart Instructions  Work Row 1 of chart 5 times, pm after each rep. Cont to work rem chart rows as established. Proceed with Finishing Instructions.
Written Instructions
Rnd 1: *K8, yo, ssk, k8, pm; rep from * three more times, k8, yo, ssk, k8.
Rnd 2 and all even rnds: Knit.
Rnd 3: *K7, (yo, ssk) 2 times, k7; rep from * to BOR.
Rnd 5: *K6, (yo, ssk) 3 times, k6; rep from * to BOR.
Rnd 7: *K5, (yo, ssk) 4 times, k5; rep from * to BOR.
Rnd 9: *K4, (yo, ssk) 5 times, k4; rep from * to BOR.
Rnd 11: *K3, (yo, ssk) 6 times, k3; rep from * to BOR.
Rnd 13: *K2, (yo, ssk) 7 times, k2; rep from * to BOR.
Rnd 15: *K1, (yo, ssk) 8 times, k1; rep from * to BOR.
Rnd 17: *(Yo, ssk) 9 times; rep from * to BOR.
Rnd 19: Rep Rnd 15.
Rnd 21: Rep Rnd 13.
Rnd 23: Rep Rnd 11.
Rnd 25: Rep Rnd 9.
Rnd 27: Rep Rnd 7.
Rnd 29: Rep Rnd 5.
Rnd 31: Rep Rnd 3.
Rnd 33: Rep Rnd 1.
Finishing
Remove all markers. Turn the work inside out (WS facing you). Cut yarn leaving a 48" (122 cm) tail. Secure and weave in all ends except for the 48" (122 cm) tail. Slide the elastic around the knit tube. Carefully place the 90 sts from the waste yarn onto spare needles and undo the provisional crochet chain. Fold the scrunchie around the hair tie so both ends meet (needles are parallel to one another). Graft the active sts and the provisional sts together using Kitchener Stitch and the 48" (122 cm) tail. Secure and weave in the end. Rotate the scrunchie around the hair tie so that it rests on the grafted stitches. Blocking is optional.
---
Gold Members, Download Here
Not a gold member yet? Join Now