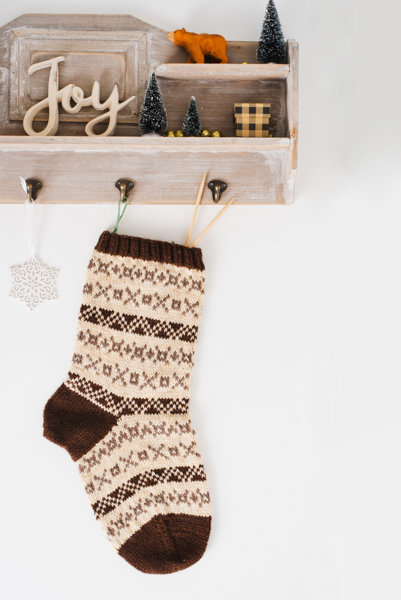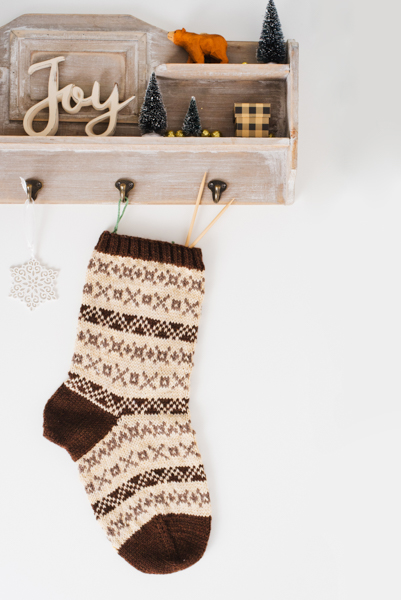 This Christmas Stocking is a change of pace from the usual using country-inspired holiday colors. Featuring a ribbed top and small patterns reminiscent of details found in garments of the Faroe Islands (part of the Kingdom of Denmark), you'll love how classic this piece will look hanging from your mantel.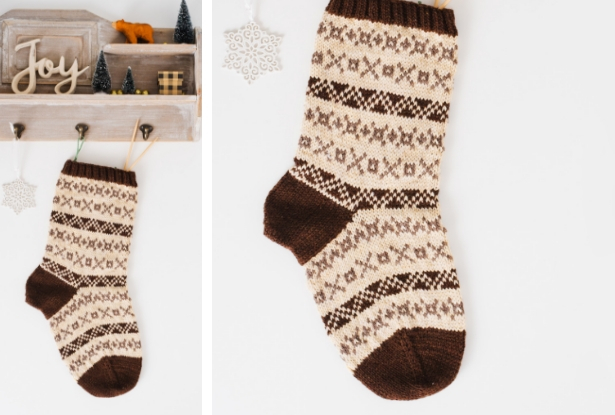 Skill Level: Intermediate
Size: Approximately 7" wide x 21" long.
Gauge: 23 sts and 20 rows = 4" [10cm] in Color patt after a light steaming
Gauge is not critical to this project, but may affect the amount of yarn needed.
Materials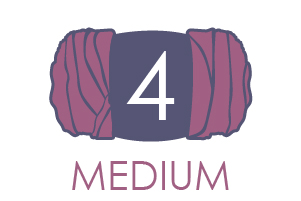 Yarn: Cascade Yarns Cascade 220 Heathers (100% Peruvian Highland Wool; 220 yards [200 meters]/100 grams): #9600 Antiqued Heather (MC, 1 skein); #8013 Walnut Heather (A, 1 skein); #2431 Chocolate Heather (B, 1 skein)
Needles: US size 7 (4.5mm) 16" and 24" circular, US size 7 (4.5mm) set of 4 DPNs
Notions: Stitch marker, holder, tapestry needle
Special Stitches
2×2 Twisted Rib
All Rnds: K1-tbl, *p2, k2-tbl; rep from * across, ending k1-tbl.
Pattern Notes
Carry colors not used in that round up work. Do not cut yarn until instructed to do so.
To avoid puckering of fabric, carry color not in use loosely across back of work.
Pattern
Ribbing
With B and shorter circular needles, CO 80 sts. Join without twisting, placing marker between first and last st.
Work even in 2×2 Twisted Rib for 8 rnds.
Begin Leg
Referring to Chart, work Rnds 1-24 twice.
Work Chart Rnd 1 once more, then slip last 20 sts just work back to LH needle.
Cut all yarns.
Begin Heel
Join B and with longer circular needles, k40 sts, sl rem 40 sts to holder.
Working back and forth in rows from this point, work even in St st until heel measures 3", ending with WS row.
Place marker between sts #20 and #21.
Row 1: Knit to 2 sts before marker, k2tog, sm, ssk, knit to end of row. (38 sts)
Row 2: Purl to 2 sts before marker, p2tog-tbl, sm, p2tog, purl to end of row. (36 sts)
Rep last 2 rows until 28 sts rem.
Rep Row 1 once more. (26 sts)
Cut yarn, leaving a long end. Fold heel in half and sew live sts tog using Kitchener st. Mark center st of heel.
Begin Foot
Sl sts from holder to shorter circular needle.
Begin at heel marker, with RS facing and MC, using LH needle pick up and knit 20 sts along left edge of heel, knit 40 sts, pick up and knit 20 sts along right edge of heel. Remove marker in heel and place between first and last st. (80 sts)
Begin with Rnd 3 of Chart, work even through Rnd 24, then Rnds 1-11.
Knit 1 rnd with B, dec 8 sts evenly. (72 sts)
Cut all yarns.
Begin Toe
Sl first 36 sts to 1 DPN and 18 sts to each of next 2 DPNs. Needle #1 has 18 sts, #2 has 36 sts, and Needle #3 has 18 sts.
Set-up Rnd: Join B at beg of Needle #1, knit all sts around.
Rnd 1 (Dec): Needle #1: Knit to last 2 sts, k2tog, Needle #2: Ssk, knit to last 2 sts, k2tog, Needle #3: Ssk, knit to end of needle. (4 sts dec'd, 68 sts)
Rnd 2: Knit.
Rep Rnds 1-2 until 32 sts rem. There are 8 sts on Needles #1 and #3, and 16 sts on Needle #2.
Knit sts of Needle #1 onto Needle #3.
Cut yarn, leaving a long end.
Finishing
Sew toe together using Kitchener st.
Steam lightly.