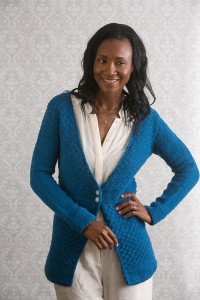 Each issue of our magazine features a focus on a particular stitch or technique, offering a pattern each issue that showcases that particular stitch.
For the next few issues we will be featuring a Basketweave Stitch Series, focusing on patterns that use this unique knit texture. The basketweave knit stitch is a simple stitch pattern that is achieved with just the basic knit and purl stitches. Of course, there are endless variations of the basketweave stitch, so we are going to show you some of the different variations during this series. By combining the knits and purls in a repetitive pattern, we are able to simply emulate the unique texture of a woven basket.
To begin our new series, we are going to focus on the Woven Cobalt Cardi. This knit cardigan pattern has everything you need all in one place: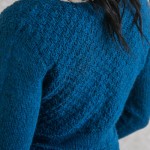 The basketweave pattern on the main body of the sweater,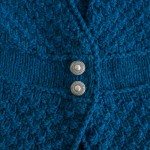 a waistline that is nipped in with buttons,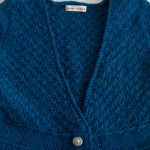 and long cozy sleeves and a deep v-neck.
These wonderful features, in addition to the longer length and bold color choice, make this knit cardigan pattern not only fun to knit, but also the perfect sweater to throw on over any outfit. You'll be able to easily dress this sweater up for a date night, wear it with jeans and tee or even wear it at the office to combat the chill of the air conditioner.
In the next few issues we will be featuring a beautiful basketweave shawl to wrap around your shoulders as well as a warm, cozy knit hat and matching cowl set. Be sure to check back to continue the series.
For a look back at the previous stitch series we have featured, check out the Fair Isle technique and the most recent Stitch Sampler Series.
Stitch Sampler Series
Marsala Lace Stole – Four different lace patterns are featured in this soft and cozy summertime shawl.
Crayon Box Sampler Afghan – Experiment with stitches and color while creating this vibrant baby blanket!
Sampled Stitches Pillow – Work with slip stitches and cables while creating a sampler pillow in vibrant colors.
Fair Isle Series