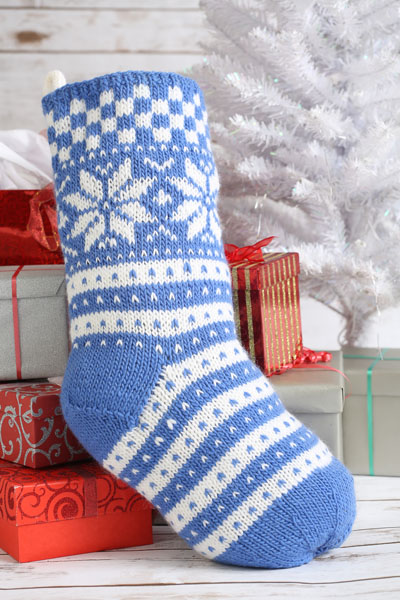 Non-traditional holiday colors are all the rage. Combine that with Norwegian-inspired colorwork and you've got a holiday project that's sure to be a hit. This blue and white stocking features stranded snowflakes and detailing and an I-cord loop for hanging. Line this stocking with an old t-shirt to keep this around for years to come.
Skill Level: Intermediate
Size:  About 16" x 22" from top to toe
Gauge: 18 sts x 20 rows per 4 inches (10 cm); The gauge is not critical in this project but you will want a fairly tight, smooth fabric
Materials
Yarn: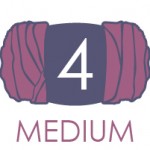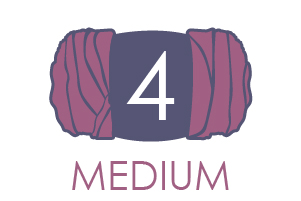 Brown Sheep Lamb's Pride Worsted Weight (85% wool, 15% mohair; 190 yards [173 meters]/113 grams): Brite Blue (MC, 2 skeins), White Frost (CC, 1 skein)
Needles:  US size 8 (5.0 mm) 16" circular needles and a set of dpns for decreasing the toe
Abbreviations
Sl 1kw: Slip one stitch knitwise (as if to knit)
Sl 1pw: Slip one stitch purlwise (as if to purl)
Ssk: Slip two stitches one at a time as if to knit, insert left needle back into these stitches and knit them together.
Pattern Notes
When working the charts some of the changes from one color to the other will be long. To keep the floats on the inside from catching on your stocking stuffers you can twist or catch your yarns every 4-5 stitches if you wish. Keep the floats loose so they don't bunch up the stitching or show through. I personally don't like to catch my floats at all because it can show through so easily. We have been using stockings like this one for several years and have not had any problem with the floats.
You may want to line this stocking if you are worried about your presents getting caught on the floats. You can use new fabric or even an old T-shirt. A knit is nice because of the stretch. Lay the stocking as flat as you can over your fabric. Trace around it and cut 2 layers of fabric. Using a 1/4" seam, sew  fabric pieces with right sides together. Leave top edge open. Turn top edge down to match bottom edge of ribbing. Insert into stocking with wrong sides of fabric facing inside of stocking. Whip stitch fold of top edge to the purl bumps of the first stockinette row. 
Pattern
Leg
CO 72 sts in MC using 16" circular needle. Join. Place marker for center back of the leg and heel.
Work 2 rounds of k1, p1 ribbing.
Adding in CC, work chart rows 1-47. Knit all sts reading chart right to left from bottom to top.  (18 stitches of chart will be repeated 4 times around the stocking).
Repeat rows 38-47 of chart once more.
Heel
Row 1: Using MC only, Knit 18, turn.
Row 2: Slip 1 purlwise, P 35,  turn. (36 stitches are working the other 36 are resting)
Rows 3-14: Knit every odd row, turn and purl back on even rows. (Slip first stitch knitwise on knit rows and purlwise on purl rows)
Heel Turn
Row 1: Sl 1kw, k20, skp, k1, turn. (12 unworked stitches remaining on the left needle)
Row 2: Sl 1pw, p7, p2tog, p1, turn. (12 stitches will remain as before)
Row 3: Sl 1kw, k8, skp, k1, turn.
Row 4: Sl 1pw, p9, p2tog, p1, turn.
Row 5: Sl 1kw, k10, skp, k1, turn.
Row 6: Sl 1pw, p11, p2tog, p1, turn.
Row 7: Sl 1kw, k12, skp, k1, turn.
Row 8: Sl 1pw, p13, p2tog, p1, turn.
Row 9: Sl 1kw, k14, skp, k1, turn.
Row 10: Sl 1pw, p15, p2tog, p1, turn.
Row 11: Sl 1kw, k16, skp, k1, turn.
Row 12: Sl 1pw, p17 p2tog, p1, turn.
Row 13: Sl 1kw, k18, skp, k1, turn.
Row 14: Sl 1pw, p19 p2tog, p1, turn.
Foot
With CC, knit across heel. Pick up 7 stitches along sides of heel flap, one in each of the slipped stitches along the side of the heel. Make sure you are placing your needle under both loops of the slipped stitches, then wrap as if to knit and pull the new stitch through. Pick up an extra stitch just before the first instep stitch by picking up and twisting the strand between stitches. Knit into the back of this loop. This will close any gap that might form there. Knit across the instep stitches that have been resting. Pick up stitches in same manner as before on second side of heel, picking up first stitch in the strand between stitches just after the last instep stitch. Continue knitting to center heel marker.
Adding in CC, work rows 38-47 of chart 3 times. Pick up round counts as first row 38. On row 39, decrease extra stitches between instep stitches and stitches picked up on heel flap so you have 72 stitches around again.
Work rows 38-42 once more.
Toe Shaping
Note:  Change to double pointed needles when circle gets too small for the 16 inch circular.
With MC: Knit 1 round.
(K 7, k2tog) repeat around. (64 sts)
Knit 5 rounds plain stockinette.
(K 6, k2tog) repeat around. (56 sts)
Knit 4 rounds.
(K 5, k2tog) repeat around. (48 sts)
Knit 3 rounds.
(K 4, k2tog) repeat around. (40 sts)
Knit 2 rounds.
(K 3, k2tog) repeat around. (32 sts)
Knit 1 round.
(Knit 2,k2tog) repeat around. (24 sts)
(Knit 1, k2tog) repeat around. (16 sts)
K2tog around. (8 sts)
Cut yarn leaving a tail.  Using a tapestry needle, thread yarn through stitches and pull tight.  Weave in all ends.
Hanging Loop
Make an I-cord about 6 inches long or braid or twist several strands together and attach securely to ribbing section at top of stocking.
I-cord: With dpn, CO 4 stitches.  *Without turning the needle, slide stitches to right needle tip, pull yarn around back, and knit the sts as usual; rep from * for 6 inches or desired length.

---
Gold Members, Download Here
Not a gold member yet? Join Now