Features
Patterns
Departments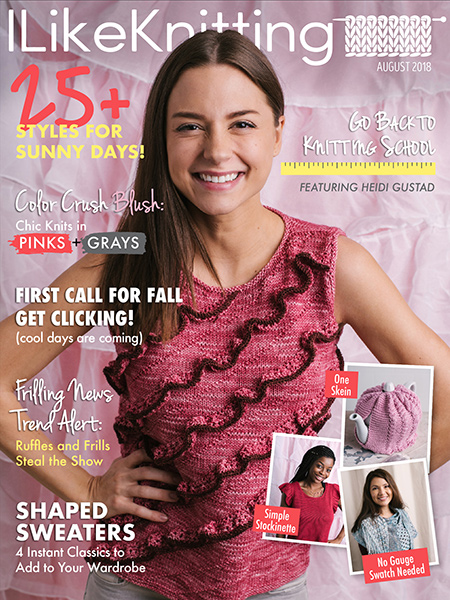 A Note from the Editor
Get ready for a shift in seasons with this gorgeous issue featuring the perfect collection of summer-to-fall patterns. Beat the last of summer's heat with frilly favorites, including the Dressed to Frill Top (on the cover) and the Frilled with Joy Peplum Tunic. Each piece adds some fun flair to your wardrobe.
When the chill sets in, look to cozier patterns like the elegant Keyhole Pullover, Buttoned Poncho Coat or the Autumn Aztec Socks (a must see!). No matter which project you start with, you'll discover new classics that you'll return to each year in anticipation of a new season.
Happy knitting!

P.S. Do you love Ravelry? Do you love to knit? Then join our official Ravelry group for knitters. In this group, we'll discuss everything from our favorite needles to upcoming knit alongs. Join right here!
P.P.S. Take our issue survey once you've seen the issue!
Design submissions and article ideas should be submitted through our submission form.