Knit this shawl for a good cause!
Dear Knitting Friend,
Let's admit it: we can't not knit. Whether it's for ourselves, friends, or family, knitting is in our bones. If you're looking for another outlet for your knitting, we have your next project ready! Knit the Alessia Shawl — part of the Shawls for Sharing program enthusiastically supported by your friends here at I Like Knitting!
Make the Alessia Shawl for yourself, or donate it to brighten someone's day — and know that you're making a difference. This shawl is a top-down-increasing triangular pattern that ends in a beautiful ruffled edge. The center gusset hides a subtle message: Xs and Os flow down the back to symbolize the love and intention we put into every stitch when we make a handknit project for friends and family — or friends we have yet to meet.
The pattern calls for purple dk weight yarn; purple is the color for Domestic Violence Awareness. You can make this shawl in the suggested color, or choose another color that suits you or the person lucky enough to get this shawl when you're done. Either way, making this project with intent is what it's all about. Show your support for victims of domestic violence and make the Alessia Shawl today!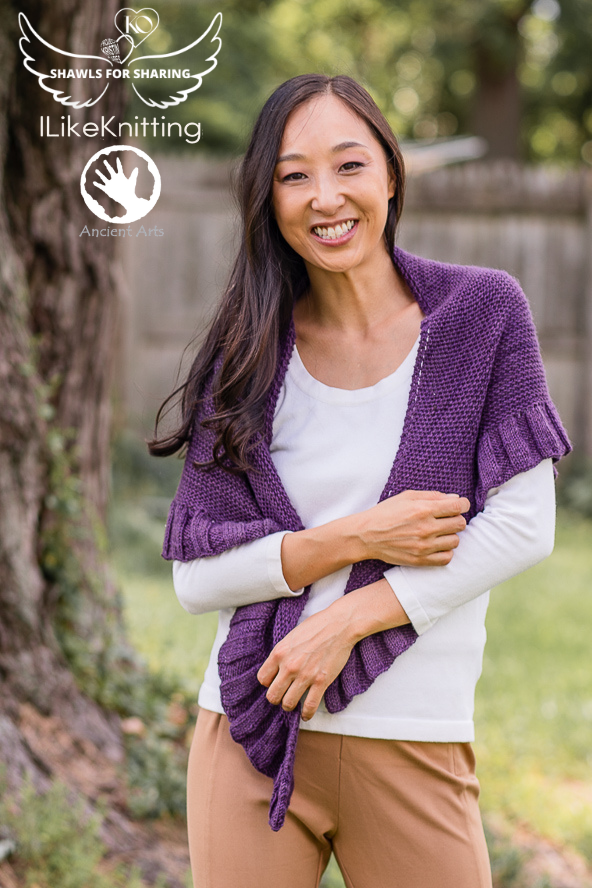 The Alessia Knit Shawl is the first knitting pattern released with Shawls for Sharing, a new initiative with Project Kristin Cares to raise awareness and support survivors of domestic violence. Each quarter, Kristin Omdahl designs and releases a dedicated shawl pattern, and 100% of the proceeds of the sale of the pattern during that quarter will be donated to the National Network to End Domestic Violence. Learn more about how you can help by visiting Kristin's website, and don't forget to buy this pattern on her website to help support this important cause. Pssst! This pattern would make a great holiday gift idea!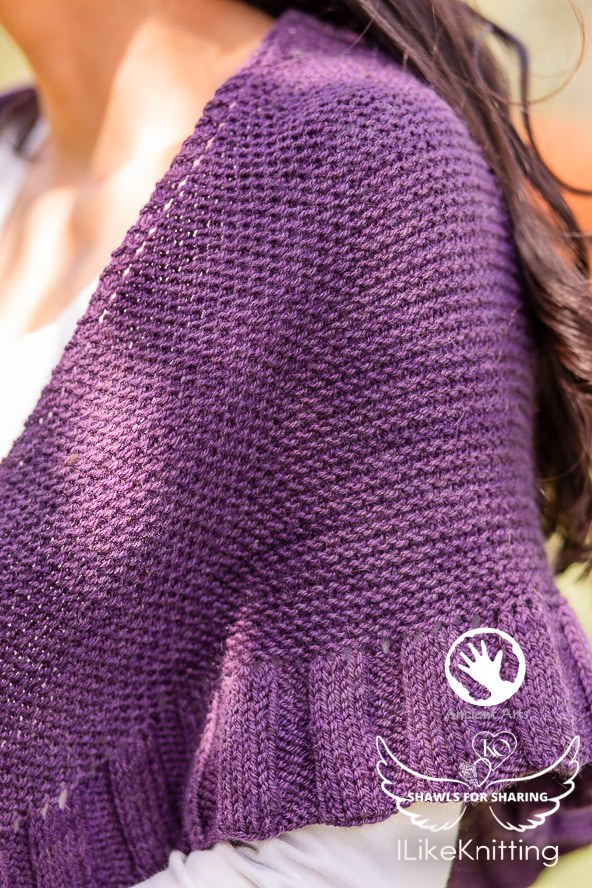 Kristin graciously allowed I Like Knitting to feature the Alessia Shawl pattern in our December 2022 issue so we could share it with our members and spread the word about this important cause. Whether you knit this shawl for yourself, a loved one, or to donate, we would love to see your pictures and hear your story! We'd also like to encourage you to consider buying the pattern for only $3.99 USD on Kristin's website, since 100% of the proceeds will be donated through the end of 2022. And, during this season of giving and community, join Kristin Omdahl for her weekly LIVE KAL on the Kristin Omdahl Show to knit this shawl together!
We would also like to thank the generous support of Ancient Arts Yarns, who provided yarn support for this stunning design. The Alessia Shawl was designed using Ancient Arts Lascaux DK yarn in Amethyst. In keeping with purple being the color for Domestic Violence Awareness, Ancient Arts is offering yarn kits in three shades of purple: Amethyst, Kismet, and Lavender & Lace.
So make yourself (or someone else) this beautiful shawl and know that you're making a real difference by supporting survivors of domestic violence. Get your Alessia Shawl pattern now!