Bold & billowy scarves, flowing sweaters, comfy cardigans & more!
Dear Knitter,
The darker days of winter are slowly receding behind us, and many of us are looking forward to the warmer days of spring and summer. While there's something to enjoy in every season, we're not quite ready to put away our cozy hats and sweaters — but we're definitely planning ahead!
Let's take a peek inside the February 2023 issue of I Like Knitting and see what catches your eye!
Roses are Red
There's still some winter left, but there's nothing wrong with looking toward spring. Our Rose Patch Scarf is reversible, knit in the round to create a double layer, and each patch builds on the previous one to give you a stunning scarf that will make people smile. Skip the ho-hum and make this for the "wow" factor!
Special occasions call for a special purse. Our Rosalia Purse will stand out in the crowd, just bursting with whimsy! This project features an intricately pieced design in the shape of a blooming rose; you can add a little fiber fill to make the rose design stand out even more. Whether you make this for your own evening out or you craft it as a super special gift for someone else, the Rosalia Purse is sure to turn heads.
Some of us are already dreaming of warm spring days, and the Rosaleen Embroidered Tee will take you through spring and straight into summer — and your flowers will never wilt! Create your own tiny rose garden on this t-shirt, knit in the round from the top down.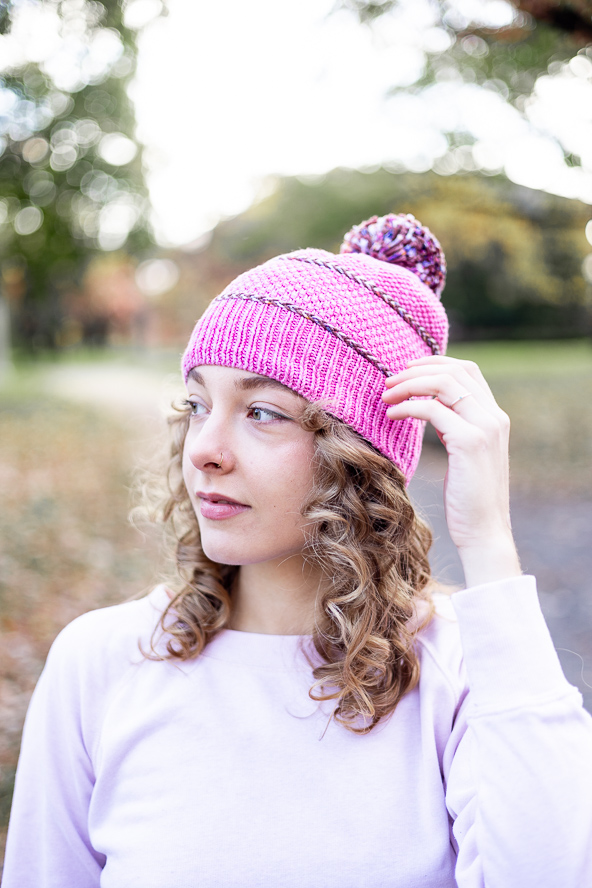 Textured Touches
Dive into the luxurious feel of rich texture with our Sandswept Sweater, inspired by the swirls that emerge when the wind blows across the sand. This allover-lace drop shoulder sweater is knit from the bottom up in pieces. This is a sweater designed for layering; wear it over your favorite tank, a dress, and maybe, once summer arrives, a swimsuit. You'll love the way this sweater feels!
Keep a stylish extra layer handy when you make our pashmina-inspired Selena Scarf. This is the perfect project for a beginning knitter and can be finished in a weekend. Worked entirely in stockinette and seed stitch, it's easy to make and easier to wear.
Other terrific textured projects include the Taelyn Textured Hat, which offers creative variations on knit 1, purl 1, and the Random Reflections Bag with its seemingly endless variety of colors and textures in a project you can cast on and off in a weekend!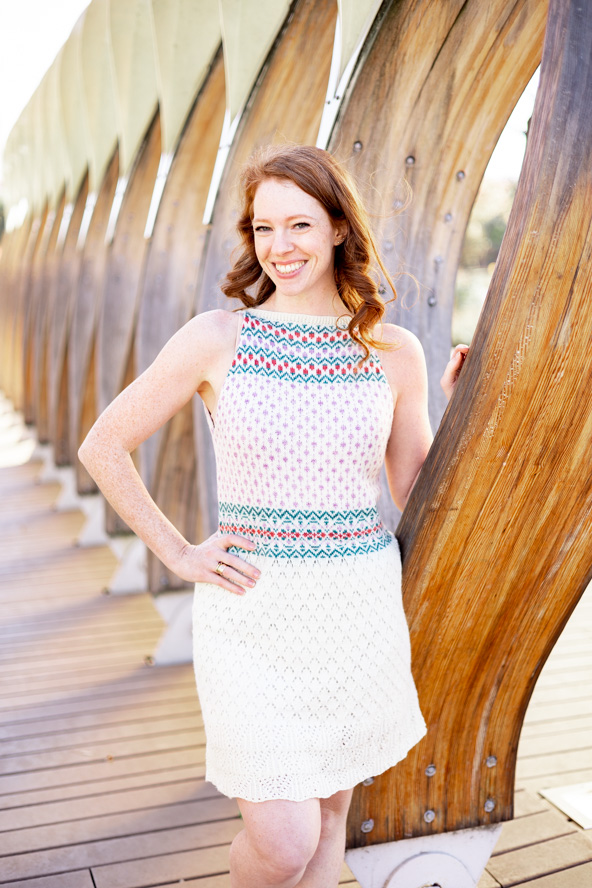 Think Spring
Let's face it, we all look forward to spring. What better way to prepare to welcome spring than with a lovely and lacy new dress? Our Savannah Colorwork & Lace Dress is a dream of colorwork, lattice lace, and diamond lace. Sleeveless, with a high neck, this dress is a real stunner. Knit it in the round, top-down, creating steeks for the sleeves and back closure. Tailor it to your taste and make it the length you like by repeating the lace motifs.
A change of seasons is a good time for a change of pace, so why not knit yourself a colorful wall hanging? Even beginning knitters will enjoy this weekend project to make the Mountain Sunrise Wall Hanging in super chunky yarn. Use simple intarsia colorwork to bring this scene to life.
Of course, what would spring be without a new pair of spring socks? You'll love our Rise and Shine Toe-Up Socks, designed especially for the KnitCircus Yarns Greatest of Ease sock yarn. It may not be beach weather yet, but you can capture the beauty of ocean waves in this pattern.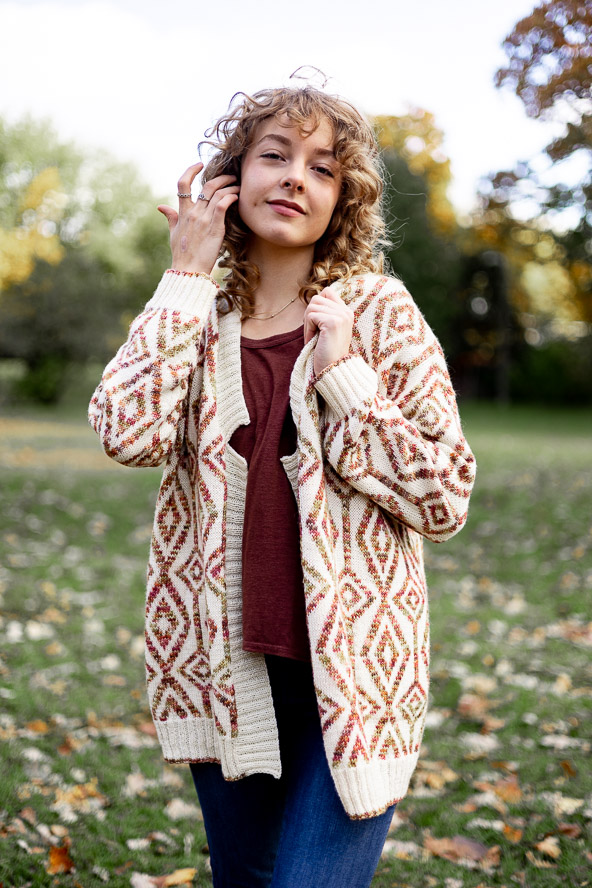 Totally Tonal
It's always a good idea to keep something warm and chic on hand for when you need an extra layer. Our Totally Tonal section features eye-catching earth tones that you can fine-tune to your taste.
The Silent Snow Shawl is as light and airy as an early morning snowfall. This pattern is a great easy-rated two-week project with easy-to-knit eyelet rows that create the illusion of a gentle snowfall.
Another easy pattern is our Sylvia Scalloped Edge Sweater. A clever cast-on creates scallops at the bottom edge and cuffs. The body is knit in stockinette with a crew neckline, modified drop shoulders, and long sleeves with matching scallops. This could become your newest favorite three-season sweater!
Our Izzy Two-Tone Sweater is an alpine-inspired pullover with two-tone coloring and complementary textures. This lovely sweater is knit seamlessly from the bottom up. You won't find anything like this cozy sweater at the store!
And let's give the cardigan its due: always comfy, always handy, and always so versatile! We have two new patterns for you: the Aveline Diamonds Cardigan with its rich texture and inset pockets, and our Winona Fair Isle Cardigan with eye-catching colorwork and a flowing feel that's as comfortable to wear at work as it is to wear on the weekend.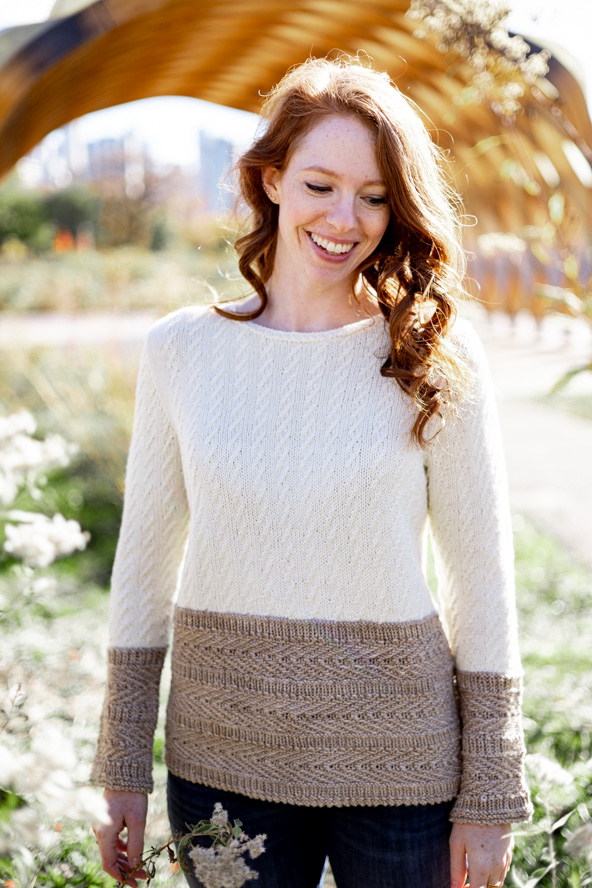 The February 2023 issue of I Like Knitting is packed with patterns that are bound to become your new seasonal favorites. Welcome the changing seasons with some stunning new projects!
Each one of the patterns in I Like Knitting comes with everything you need to finish your project:
A full list of all the yarns and tools you'll need
Row by row instructions
Special stitch instructions
Pattern notes
Detailed, full-color photography
There's something for knitters of all experience levels in the February 2023 issue of I Like Knitting. And if you're still craving more creative projects ideas, you have immediate access to our complete library of more than 700 patterns, expert tips and tutorials, along with many more special collections, including The Knit Mitten Collection, The One-Skein Knitting Collection, The Vintage Knits Collections and The Knit Hat Collection. It's all yours with your membership in the I Like Knitting Gold Club.
We have over a dozen bold and beautiful projects in our February 2023 issue. Which project will you cast on first?