Dear Knitter,
OK, it's not often that you hear the words "romantic" and "poncho" together. But cast aside your old-fashioned notion of what a poncho is and isn't. It is a comfortable and stylish way to cover up when the weather turns cool. It isn't your grandma's poncho. Lighter than your favorite chunky sweater, and way more interesting than your basic shawl. Plus, you don't have to worry about pinning it or holding it on. It'll just sit on your shoulders, keeping you comfy for as long as you need it.
Our Romantic Lace Poncho is all that and more. It's the ideal layering piece with a flowing shape and beautiful, lacy detail. Put on this poncho and you'll level up your outfit from basic to beautiful!
Work this piece in panels of lace hearts and you'll have a finished, feminine poncho in no time. The pattern's easy to learn and works up quickly.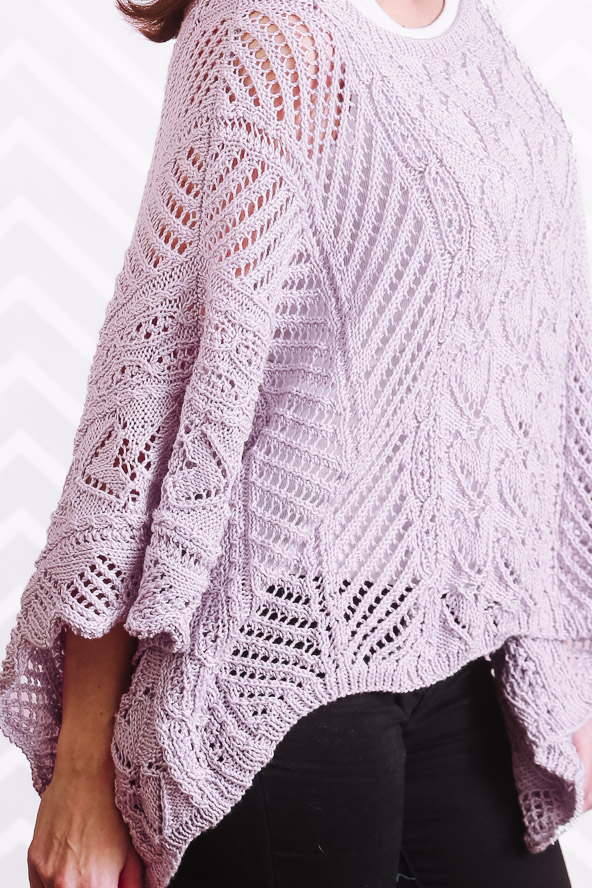 You'll work this poncho from the bottom up, making the front and back separately and then seaming the two halves together at the shoulders. You're going to love the way this poncho looks, and even better about the way you feel when you wear it! Rated Intermediate, the Romantic Lace Poncho could become your next favorite cover-up!
The Romantic Lace Poncho pattern includes:
List of necessary materials
Line-by-line instructions
Pattern notes
Detailed photography
Finishing instructions
Our poncho is in a lovely lilac, but you pick your perfect color and prepare for the compliments to come rolling in!
Happy knitting!