Dear Knitting Friend,
Here at I Like Knitting, we are proud to provide our readers with a dazzling array of patterns in a low-impact, eco-friendly way. Our magazine is all digital—no ink, no paper, no postage. No waste! Earth Day may come officially just once a year, but for us, every day is Earth Day!
Knitting is a great way to connect with nature, whether it's through the fiber we use or the pattern we choose. We have more than 30 glorious nature-inspired projects for you to consider in honor of Earth Day. Let's take a look at the Earth Day Knitting Collection from I Like Knitting!
Natural Inspiration
Embrace the wide open spaces and enjoy a stylish flexible layering option with our Wanderlust Vest. This flowing vest has just enough weight to take the edge off a cool morning, and has the look of suede without the added weight of leather. Knit this vest in a linen blend for a fabulous fit.
Make yourself a unique cardigan that has a light and lacy feel that's perfect for just-warm-enough days. Our Open Front Kimono features lovely lace panels and sleeves on a rib-edged stockinette body. Another good candidate for a linen blend yarn, this sweater is worked up in sections with just a few seams to bring it all together. Cables, lace, and garter stitch come together to create our Earth and Sea Shawl. Evoke the feeling of rolling hills and flowing water in this eye-catching shawl.
Welcome lace into your everyday with our Leafy Lace Tee. Designed as an oversized cover-up, you can take this tee to the beach or use it as an airy layer over your favorite tank or dress. You have plenty of options with this lightweight top!
When you head out for your walk, don't forget to put on your Wayfaring Leaves Ankle Socks. This pattern is rated easy, too, and it's a great way to dip your toe in the sock-knitting pool. The geometric pattern of these socks will remind you of Spring leaves while you work up this Fair Isle design.
Do you love your hanging plants, but not their containers? Cover them up! Our Botanical Bliss Hanging Baskets pattern comes in three sizes so you can give all your hanging houseplants a style update. These baskets are a breeze to make, knit in the round.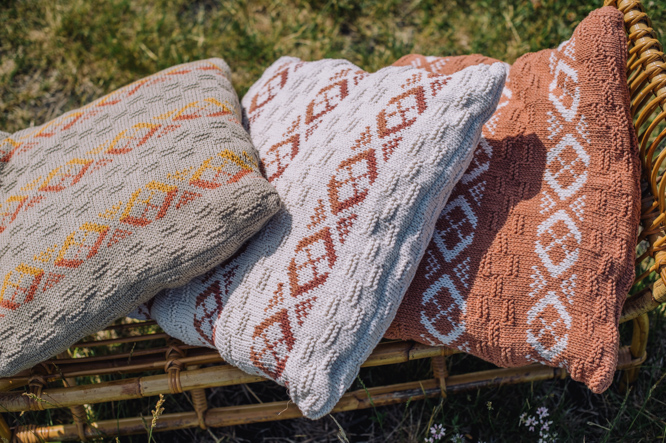 Recycled & Reimagined
Part of the recognition of Earth Day is making an effort to reduce, reuse, and recycle out of respect for our planet. We have plenty of patterns with natural fiber options and opportunities to use recycled materials in your projects.
Get into an island state of mind with Sally's Beachcomber Bag. Glittering sea glass beads and bright shells give this easy weekend project a tropical look that will make you want to head to the beach. But this bulky cotton yarn bag will work just as well as a shopping bag for anyway use. Who says shopping bags have to be boring? Break away from the ho-hum reusable bags and tote something stylish! For warmer days when you're out on errands, work up our Ziggie Tank to have a new favorite layering piece. This pattern's rated easy, so all knitters are invited to make this versatile and lovely tank.
What better way to mark Earth Day than to use up a bunch of your yarn stash? Our Patchwork Earth Blanket pattern combines simple rib stitch with fun blocks of color to create a super-comfy textured blanket. Even better: this pattern is rated easy, and will give new knitters a chance to work in the intarsia technique. What's a comfy blanket without a pillow? Our Mountainscape Pillow uses the intarsia technique, too, and this weekend project is perfect for beginning knitters and beyond. You'll love the mountainscape view you can take with you anywhere! Or consider making our Zion Grotto Pillows, with three different color schemes. These stunning throws are knit in the round and feature a zipper closure!
For a little natural whimsy, make our Seymour Turtle Toy. Seymour is a perfect weekend project that you can easily take on the go. Knit him up in separate parts and sew him together. Want an even quicker project? Your can knit up our Estella Purse in just a couple hours! This elegant bag has two handle options and is made with recycled yarn.
Other fun projects to make with recycled fibers include our Denim Dreamer Shawl, Madison Bluewash Cowl, Linden Hat, and Loopty Loo Socks.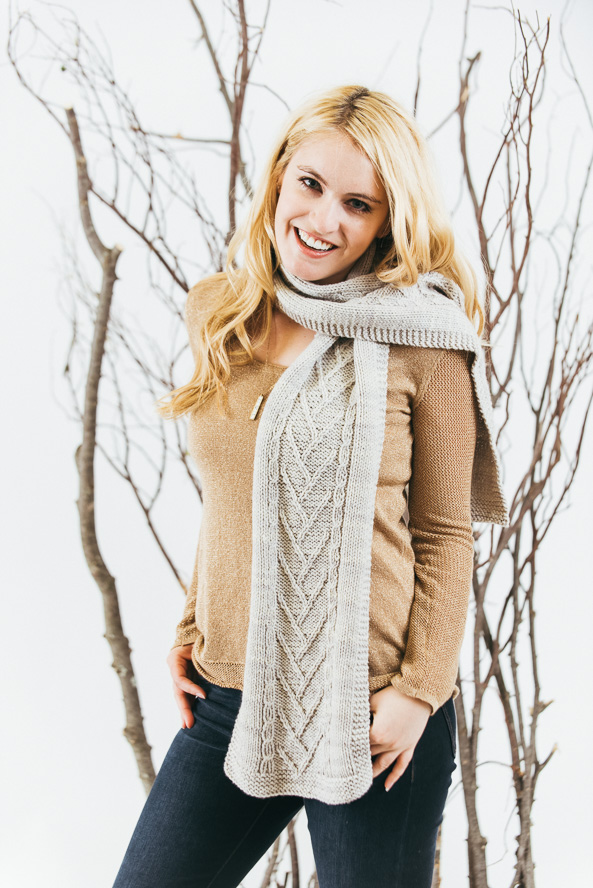 Organic Options
We know that some knitters will never let a synthetic yarn touch their needles; it's natural all the way, or nothing. If you're in the natural fiber-only camp, this section is for you. And if you like to knit with a variety of fibers, this section is also for you. Let's see what's up in the organic fiber department!
An organic merino wool is the base for our Misty Horizons mini collection: hat, scarf, and hoodie! The Misty Horizons Scarf features an eye-catching cable panel that may remind you branching trees; pair it up with our Misty Horizons Hat in matching yarn. If you're looking for a great sweater for chilly mornings or for evenings around the fire, you'll love our Misty Horizons Hoodie. It's knit from the top down, so you can try it on as you go. And that beautiful branching cable pattern really stands out. Add your favorite buttons and you may just have your new favorite sweater! Another cardigan option is our Comfy Pocket Cardigan. Another great cardigan with buttons and pockets, this casual chic sweater will be a loyal weekend friend.
It's never too early to prepare for colder weather, so why not make yourself a colorful hat and scarf set? Prepare to coordinate your fall look with the Pumpkin Spice Hat and Scarf Set that echoes the color and texture of autumn leaves. The hat has a bit of a slouch to make it super comfy, and the scarf is long enough and wide enough to easily make the transition into winter. A simple cable accent on both hat and scarf gives this set an elegant touch. Or make our Go with the Snow Scarf — a cozy, squishy scarf that features a horseshoe cable panel down the center. For warmer weather, make our Cassidy Gingham Cowl as a colorful accent piece. This is a great colorwork project for beginning and advanced knitters alike!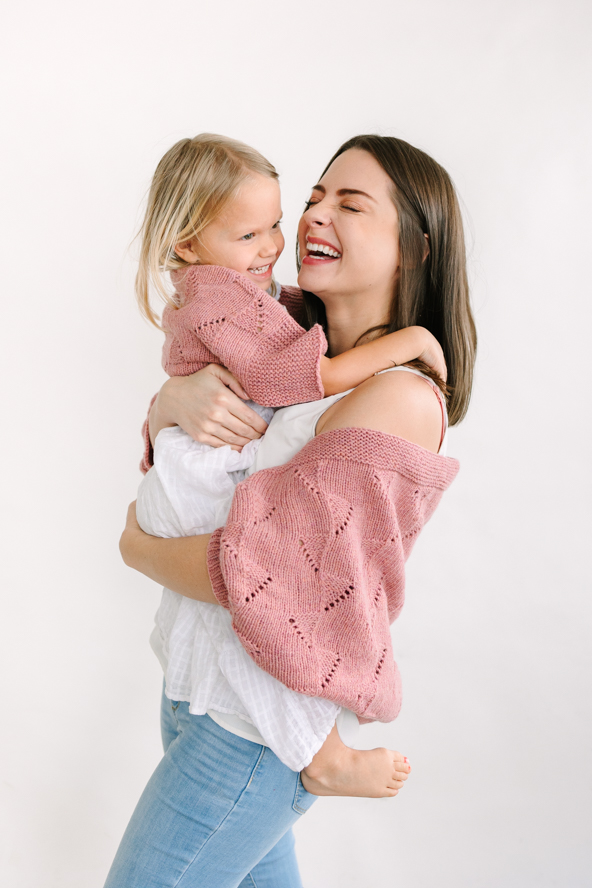 We have a couple lovely warm-weather tops you can make in organic cotton. The Garter Twist Tee is totally customizable. Knit this tee from the top down and try it on as you go. You can make the sleeves the length you like, and you can pick where to start the twist lace pattern. Understated and stylish! Our Fiji Top is subtly flirty, with eye-catching straps at the neckline and hem.
You know it's always good to have an extra layer on hand; why not make it beautiful? Our Aitne Poncho is an easy project that's perfect for advanced beginners and beyond. The wide garter and stockinette rib pattern creates stunning lines of symmetry, and the cowl neck with a picot bind off gives this piece a feminine finish. If you like to work with linen, you'll love our Sloane Linen Beach Cardigan. This open cardigan is perfect for walks along the water (or anywhere else, really!). Use our recommended yarn for a textured fabric with great drape that only improves with washing. Best of all? This pattern is perfect for knitters of all experience levels.
Our Earth Day Knitting Collection gives you more than two dozen projects to choose from — all of them inspired by nature. Which one are you inspired to cast on first?