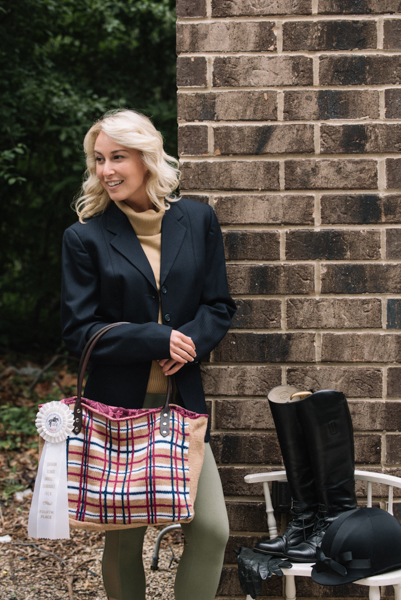 Preppy and plaid go hand-in-hand in the horse world. This type of plaid knitting is easy and fun. The vertical stripes are done afterwards with a crochet hook, so you're only ever knitting with one color at a time.
Skill Level: Easy
Size: approximately 12" tall x 16" wide at base x 5" deep
Gauge: 22 sts and 30 rows = 4" [10 cm] in St st after wet blocking
Materials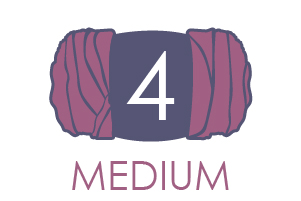 Yarn: Cascade Yarns Cascade 220 (100% Peruvian Highland Wool; 220 yards [200 meters]/100 grams): 8622 Camel (MC, 2 skeins), 8505 White (CC1, 1 skein), 8395 Navy (CC2, 1 skein), 7803 Magenta (CC3, 1 skein)
Needles: US size 7 (4.5 mm) circular
Notions: Markers, tapestry needle, US size H/8 (5.0 mm) crochet hook, 1 set Jul Designs 24" Forager Rolled Screw-In Handles in Truffle, ½ yard quilting cotton for lining, ½ yard heavy-duty interfacing, sewing machine, sewing needle, thread to match lining
Pattern Notes
This tote is worked in three pieces: two plaid pieces and a gusset/bottom piece.
The plaid pattern is created by purling columns of stitches, then using a crochet hook to slip stitch into the vertical columns.
Pattern
Plaid Sides (make 2)
With MC, CO 93 sts.
Begin working from chart, adding contrast colors as needed according to chart. Work the red repeat box twice.
Note: That chart starts with a WS row. Read all WS rows from left to right and RS rows from right to left.
Work Rows 1-37 of chart through twice, then Rows 1-15 once more.
BO all sts knitwise.
Follow the photos for vertical column colors. *From the RS, insert crochet hook into the bottom purl stitch. Draw up a loop of contrast color yarn. Insert the hook into the next purl stitch and draw up a loop, then pull it through the first loop. Repeat from * all the way up the purl column.
Gussets/Bottom
With MC, CO 25 sts.
Beg with a WS row, work in St st until piece meas 12", or to the same length as the vertical side of the plaid piece, ending after a RS row.
Turning Row (WS): Knit.
Resume working in St st until piece meas 16" from Turning Row, or to length of bottom edge of plaid piece.
Repeat Turning Row.
Resume working in St st until piece meas 12" from Turning Row.
BO all sts.
Finishing
Weave in all ends.
Block pieces.
Using MC, seam Gusset/Bottom to plaid pieces.
Optional: With CC3, using crochet hook, work a slip stitch just under the BO row of the top edge, all around.
Lining
Cut two pieces each of fabric and interfacing, 22" wide x 14" tall.
Fuse interfacing to back of fabric.
Using sewing machine, sew sides and bottoms together with a 0.5" seam allowance. Press seams open. Arrange corner so that side and bottom seams are lying on top of each other- corner will form a triangle. At the point where the triangle is 4.5" wide, draw a line. Sew across this line. Cut off excess fabric.
Insert lining into bag, pushing corners of lining into corners of bag. Fold down top of lining to reach top of bag. Using needle and thread, slip stitch lining into bag.
Insert handles into bag using screws on back of handles, cutting very small holes in bag lining at attachment points.
---
Gold Members, Download Here
Not a gold member yet? Join Now