Skill level: Beginner
Size: Small (Medium, Large) Finished Measurements 3 (4, 5)" / [7.6 (10.2, 12.7) cm] diameter x 1½ (2, 2½)" / [3.8 (5.1, 6.4) cm] height
Gauge: 18 sts and 20 rows= 4″ [10 cm] in St st using larger needles, after wet blocking
18 sts and 32 rows= 4″ [10 cm] in Linen St using larger needles, after wet blocking
Materials
Yarn: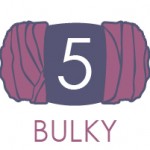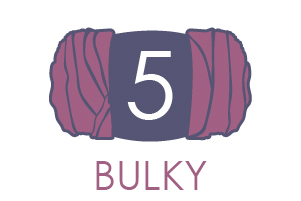 Valley Yarns Valley Superwash Bulky (100% Superwash Merino Wool: 109 yards [100 meters]/100 grams): #19 White, 1 ball; #15 Mullberry, 1 ball; #25 Lime, 1 ball
Needles: US size 10 (6 mm): DPNs or 40" for magic loop
Notions: Tapestry needle; ¼ yd / [0.23 m] coordinating fabric; scrap of corrugated cardboard box for bases; 3 yards / [2.7 m] ribbon for hanging baskets (any type); 1 ring (such as a key ring) for hanging baskets; glue gun and glue for making bases; sewing needle and coordinating thread for attaching ribbons
Pattern Notes
Each basket is worked in the round from the bottom up.
Pattern
CO 6 sts, join for working in the rnd, being careful not to twist sts. PM to mark the end of the rnd.
Rnd 1: *K1fb every st around – 12 sts.
Rnd 2: Knit.
Rnd 3: *K1fb every st around – 24 sts.
Knit 1 (1, 2) rnds.
Size Small only
Go to edging instructions.
Sizes Medium (Large) only
Next Rnd: K1fb every st around – 48 sts.
Knit 0 (2, 3) rnds even.
Go to edging instructions.
Edging
Rnd 1 (Inc): Knit, increasing 6 (8, 39) sts evenly around.
Rnd 2: Knit.
Rnd 3: Purl.
Sides
Rnd 1: *K1, sl1 wyif; rep from * to end.
Rnd 2: *Sl1 wyif, k1; rep from * to end.
Rep last 2 rnds for 1½ (2, 2½-3)" / [3.8 (5.8, 6.3-7.6) cm].
Next Rnd: Purl.
BO all tightly, removing marker.
Note: If you find that your top edge is wavy, BO with a needle 2-3 sizes smaller than the gauge needle.
Finishing
Block Baskets to measurements. Weave in yarn ends.
Cut out 3 circles from cardboard in diameters of 2½ (3¾, 4½)" / [6.4 (9.5, 11.4 cm] to fit in the bottoms of each basket, respectively.
Cut out a circle of fabric slightly larger than each circle. Glue the cardboard circle for each basket to the middle of its circle of fabric. Fold the edges of the fabric under and glue down to the backside of each cardboard circle.
For hanging baskets
Cut 4 lengths of ribbon, each 24" / [60.9 cm] long. Sew each ribbon to the bottom of the largest basket on all 4 sides at evenly spaced intervals. Sew each ribbon to the top edge of the large basket. Leave 3" / [7.6 cm] room between the top edge of the large basket and the bottom edge of the medium basket. Sew ribbons in place on medium basket as for large basket. Repeat for small basket, leaving 10" / [25.4 cm] from top edge of small basket to hanging ring. Tack ribbons to ring with glue or sew to secure. Trim excess ribbon, if needed.