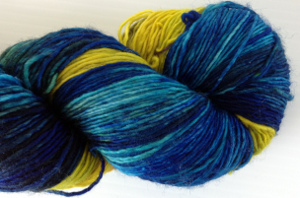 Pixie Skein – van Gogh's Sunflowers
Cost: $25-$29 per skein, depending on yarn weight.
Beautiful and vibrant hand-dyed yarn is every knitter's dream, so when a gorgeour color palette comes along, you can't help but stop and stare. Aptly named in honor of Van Gogh's Sunflower painting due to its color scheme, Dragonfly Fibers' hand dyed yarn is 100% all-natural fibers, so whatever your end result will be with this yarn, it's bound to be super soft and super cozy. There are multiple variations of Sunflowers, each in varying weight and yardage, so any project you dream of is within your reach.
From the October 2014 issue