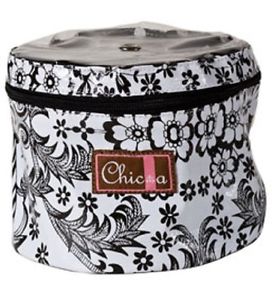 Chic-a Single Yarn Keeper
Cost: $18.00 per keeper.
Chic-a's Single Yarn Keeper is every knitter's best friend. Better than a breakable yarn bowl, the Single Yarn Keeper holds your yarn, keeping it clear of dust and debris, in a pliable and easily moveable 5"x5"x5" pouch. Great for travel because of its durability, this yarn keeper is perfect for any small project or single ball of yarn you are afraid will unravel. In nine different colors like Zebra, Silver Cherries, Martinique Yellow, and Chic-a Pink, these pretty pouches will look great in any room of your house as you work up your next project.
From the October 2015 issue