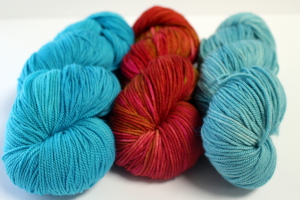 Baah Yarn's La Jolla Superwash Merino
Cost: $29 per 100g/400yds skein.
If you haven't experienced Baah Yarn yet, you're missing out. The hand-painted La Jolla is particularly a treat to work with. Not only does it come in a wide selection of beautiful, vibrant hues, but the nice tight twist of the yarn works wonders in any pattern. Made out of Superwash Merino, this yarn works with a variety of projects like socks, shawls and wearables. The stitch definition in each project is also remarkable. You won't regret giving this yarn a try.
From the December 2014 issue