Retro is IN this fall/winter season, a fact made apparent by the amount of flared jeans and suede skirts I'm seeing everywhere. For me, the most surprising – and fun – throwback is fringe. Just looking at the new arrivals at some of my favorite online stores I've seen jackets with fringe details along the sleeves and back, purses with fringed faces and even skirts and dresses featuring the fun details. Don't feel limited to just clothing pieces, though. If you're looking for ways to add this fun trend, the possibilities are endless.
In terms of clothing, fringe accents are all over: jackets have them across the back and down the sleeves, dresses have them extending from the waist down and there are even skirts out there that are just fringed and fun. You can even find fringe accents to sweaters and cardigans. Plus, they're super easy to add to your accessories. Add some fringe to the front flap of any handbag for some instant flair or add a small amount to the tops or sides of shoes for a unique touch. In fact, the boots I'm wearing now have little bits of fringe all along the sides.
It's just as easy to add some crochet fringe accents to your crochet patterns! You just need a little bit of extra yarn to give your finished pieces that extra little something. You can use the same yarn you were crocheting with, if you have extra, to give it some flair, or choose something different to offset the colors and make your piece really stand out! You can add fringe to the bottoms of tees and shirts (bonus points if they're cropped tees or cover-ups, to give it that vintage vibe) or stick with accessories and add your yarn to the ends of scarves, shawls and cowls (as pictured below). However you choose to embrace the fringe fad, you'll be glad you did!
---
Fringed Cowl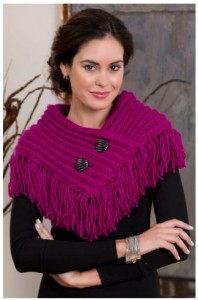 Pattern by Red Heart
Skill Level: Easy
Size: Cowl measures 36" (91.5cm) around and 8" (20.5 cm) wide (folded)
Gauge: 16 sts = 4″ in pattern
Materials
Yarn: Red Heart with Wool (80% acrylic, 20% wool; 146 yards [134 meters]/100 grams): #550 Dahlia (4 balls)
Needles: US size 10.5 (6.5 mm) needles
Notions: Crochet hook (for attaching fringe), two 1½" (4cm) buttons, sewing needle and matching thread, yarn needle
Pattern
Cast on 67 sts.
Row 1: *K2, p2; repeat from * to last 3 sts, k2, p1.
Repeat Row 1 until piece measures 36" (91.5 cm) from beginning.
Bind off.
Finishing
Fold rectangle in half lengthwise and sew long edges together. Using photograph as a guide and holding cowl with fold at top, place right end over left end. Sew short edge of right front to lower side edge of left front.
Fringe: Cut yarn into 12" (30.5 cm) lengths. Hold 2 strands of yarn together and fold in half forming a loop at one end. *Insert crochet hook into edge of cowl and place loop on hook. Draw loop through, insert ends through loop and pull to tighten; repeat from * to attach fringe every other row (or as desired) across lower edge of cowl. Trim fringe evenly. With sewing needle and matching thread, sew buttons to front of cowl. Weave in ends.
You can absolutely add fringe to patterns even when it's not written within the steps – just follow the Fringe step above and add your own flair to the following I Like Knitting projects: