I am a knitting newbie. I learned about a year ago, but before then could only crochet (and only easy patterns). With crochet, I was able to grasp everything – literally. One hand held the project, one hand held my hook and then I just wrapped the yarn from the skein I was using around my finger and went on stitching. Over the holidays, though, my mother (who is the most amazing crafter ever) decided to place two needles in my hands, instead of my trusty hook. She explained the process and the basic stitches (though she called knits and purls, appropriately, regular and backwards knitting), and, after casting on my first row for me, sat back to watch me go.
It went horribly. At the same time I started knitting my own first row, she starting casting on her own scarf. I managed to get about five or six knit stitches in before glancing at my mom… who was already on her fourth row. I understood the concepts and could picture exactly how to work the stitches in my mind, but when it came down to my hands actually working the stitch, things just faltered.
Since then I've gotten a little more sure of myself when holding two needles as opposed to one hook, and because I still struggle, I feel compelled to share four bits of advice I've learned myself:
1. Holding a needle in each hand and ALSO trying to find a way to hold your project is weird. You might feel like you need three hands, but it can be done with just your own two. Experiment with different ways of holding everything. Start with just the two needles and see what grip works best, then add in the project. I tend to hold everything in a way that looks painfully awkward, but it's the only way I can grip everything and still continue knitting. Find what works for you.
2. Don't pick a super long project or anything with too many changes as your first project, start off simple. You might be tempted to start knitting a cowl in the round or going after a pattern with an adorable knit/purl basketweave look, but focus on the basics first: work on making sure you don't lose (or add!) stitches as you go, keep your tension consistent throughout the entire row (my own stitches have a habit of being tighter in the middle than on the ends) and work on keeping your sides straight. You can always work up to more advanced patterns.
3. You will be slow, and that's fine. Just keep at it – make sure you practice getting the proper technique as you go. Speed will come later as your hands are more used to the feel of the needles in your hands.
4. Don't get discouraged. Yes, this seems like a no-brainer, but, coming from experience, it needs to be said. I could visualize myself making a purl stitch but I couldn't physically make it happen at first, and I was getting so frustrated with myself.
Take it slow and keep practicing, and I promise you'll get more comfortable with making stitches. Soon, you'll start doing things so quickly, you'll almost forget how slow you were when you first started.
---
Dipped Points Scarf
Pattern by Yarnspirations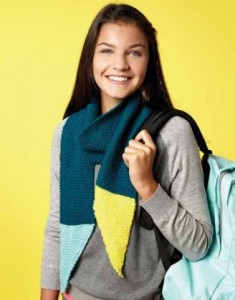 Skill Level: Beginner
Size: Approx. 7″ x 70″
Gauge: 17 stitches and 32 rows = 4″ [10 cm] in garter stitch
Materials
Yarn: Caron Simply Soft (100% acrylic; 315 yards [288 meters]/170.1 grams): #9780 Robins Egg (A, 1 ball), #0014 Pagoda (B, 1 ball), #9612 Super Duper Yellow (C, 1 ball)
Needles: US size 8 (5.0 mm) needles or size needed to obtain gauge
Notions: Stitch marker
Pattern
With A, cast on 2 stitches (sts).
Row 1 (RS): Knit into front and back of first stitch (Kfb). Knit 1 stitch (K1). (3 stitches (sts) total)
Row 2 and alternate (alt) rows: Knit.
Row 3: Kfb. K2. (4 sts total)
Row 5: Kfb. Knit to end of row.
Row 6: Knit.
Repeat (Rep) last 2 rows until there are 30 sts. Break A. Join B. Place marker (PM) at end of last row.
With B, work in garter st (knit every row) until work from marked row measures 50″ [127 cm], ending on a Wrong side (WS) row. Break B. Join C.
Next row: With C, knit first 2 stitches together (K2tog). Knit to end of row.
Next row: Knit.
Rep last 2 rows until 2 sts remain (rem). Cast off rem 2 sts.