When the weather turns warm, that doesn't mean that you have to ditch the hand knits. You can still have the custom fit of a hand knit top, you just need to make a few adjustments to your knitting plan.
To get started on your own collection of lightweight knit tops, start with any of the lovely lightweight knit top patterns below. Once you've found the perfect top, choose a lighter weight yarn that wears well in the heat of a summer day – wool might not be the best choice for a summer top, so opt for something like a cotton blend. Lacy patterns work well because they are light as air and are rarely bulky. Choose brighter colors since these smaller pieces offer a great chance to add a cheerful pop of color, and go for something out of your comfort zone. You'd be surprised by what a pop of chartreuse or bright turquoise can do for your summer wardrobe.
Summer is also a great time to experiment with new construction techniques. After all, the piece won't be as big as a bulky sweater so it won't seem so overwhelming when you're trying to learn something new. So don't be turned away at the thought of an asymmetrical hemline or shoulders bound off with the Kitchener stitch. You'll learn that new technique and before you know it, you'll be done!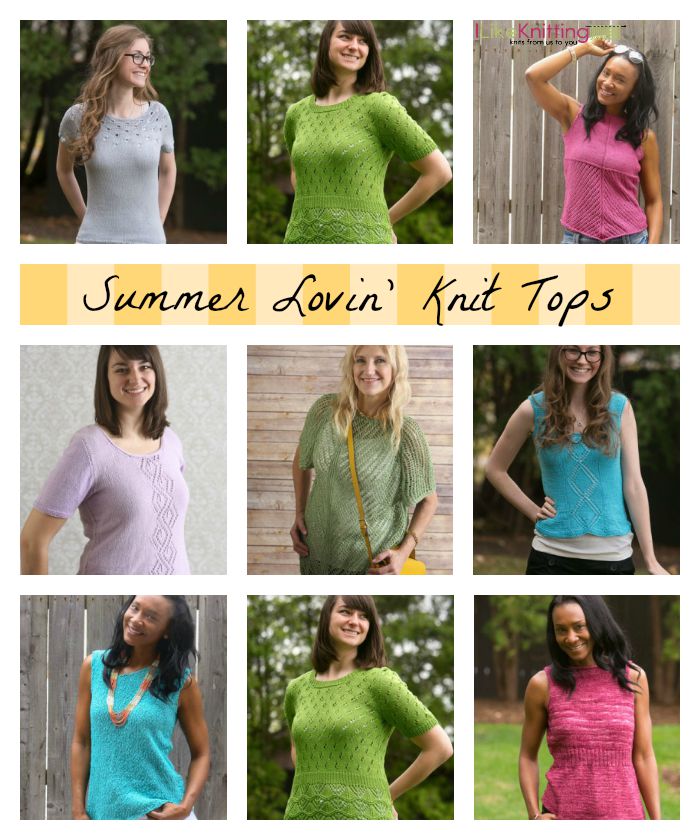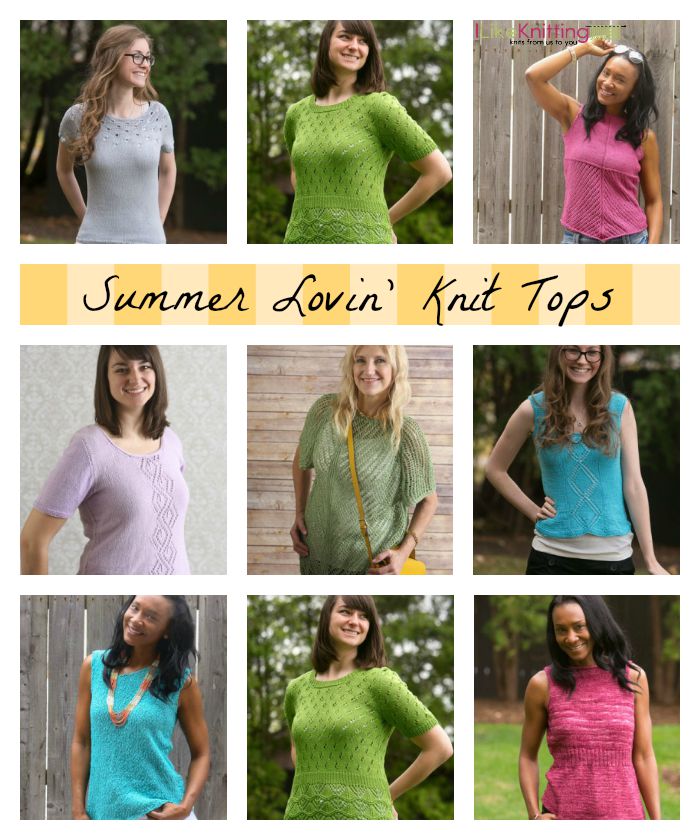 Simple and Bright: Summer Knit Tops 
Blue Crush Tank Top
You won't believe how easy this top is to work up, and the simple lace inset down the middle will add a trendy bit of flair.
Earring Lace Summer Top
The unique stitch pattern along the bottom of this simple knit tee gives this top that extra little bit of something fancy that makes it perfect for dressing it up or down.
 Bowtie Tank 
The epitome of femininity, this top features bows, a scoop neck and a delicate lace hemline. It's fun to wear, but even more fun to knit up.
Grecian Pillars Top
Want a flowing summer top but still desire a bit of waist shaping? A band of lightweight ribbing across the waist tucks this top in just a bit and makes it flattering and fun.
 Asymmetrical Mint Cream Top 
Want to hide a little bit of something extra?  The diagonal lines of this top are BEYOND flattering, no matter your body type.
Watermelon Sorbet Top
A simple t-shirt design, elevated. A fun all-over texture combined with a scoop neck will make this top a summertime wardrobe staple.
Fresh Raspberry Tank 
A V-neck and empire waist combine to make a super-flattering top that will look great on many body types.
 Leafy Lace Tee 
Meant to be a layering piece, this lacy top will go great over your favorite tank tops and jeans.
Interlaced Diamond Top
Short sleeves and a flattering boatneck make this the perfect sweater for the office. The diamond pattern down the center is easy to achieve and keeps the knitting interesting as you work the main body of the sweater.
Owls' Nest Top 
The eyelets at the yoke of this stunning summer sweater keep it light as air. With a slight fitted design, this is a great piece for layering.