Hi knitters! This is Jessica from Mama In A Stitch Blog and today I'd like to share a simple, trendy, spring time sunglasses case pattern with you.  This case is made with a lightweight cotton that is perfect for the warmer months, but you can use any worsted weight yarn that you have in your stash.  In fact, this could be the perfect little summer stash buster project. Get rid of some of that left over yarn and make yourself this cute little bag to throw in your purse to protect your sunglasses. This is definitely a beginner friendly pattern. You do have to do simple color changes, but it's so easy! If you know how to knit and purl, you can do this for sure.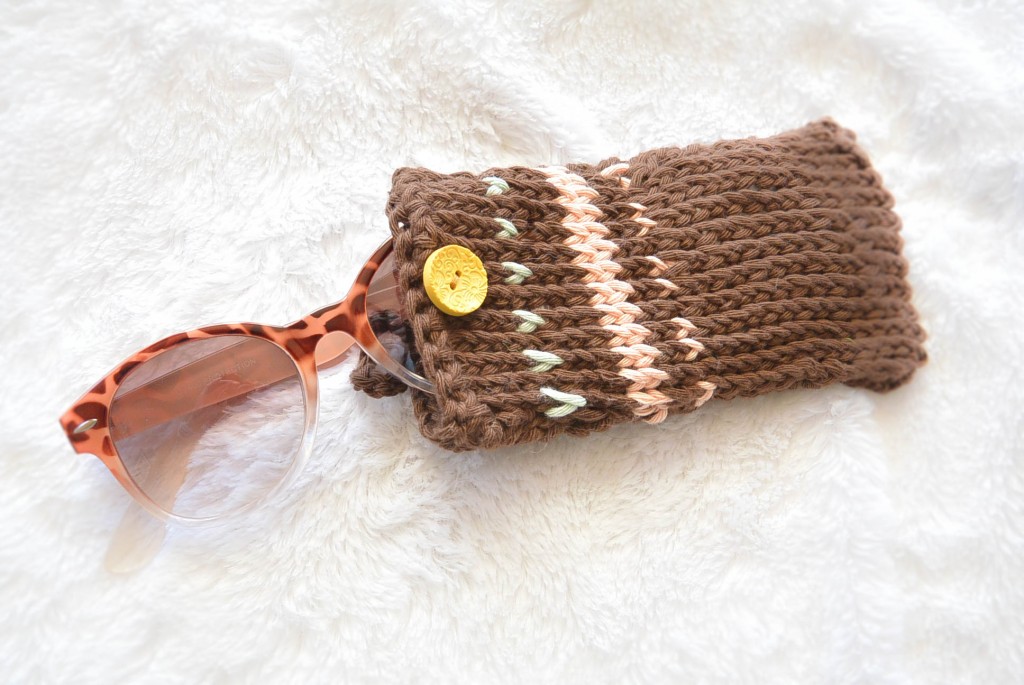 You will need:
US Size 8, 5.0 mm Knitting Needles
Worsted Weight Yarn ( I used Drops Paris Cotton in Brown, Peach and Light Mint Green)
Scissors
Tapestry Needle to weave in ends
Bright colored button
Needle and Thread
Crochet hook (Size G or H) – optional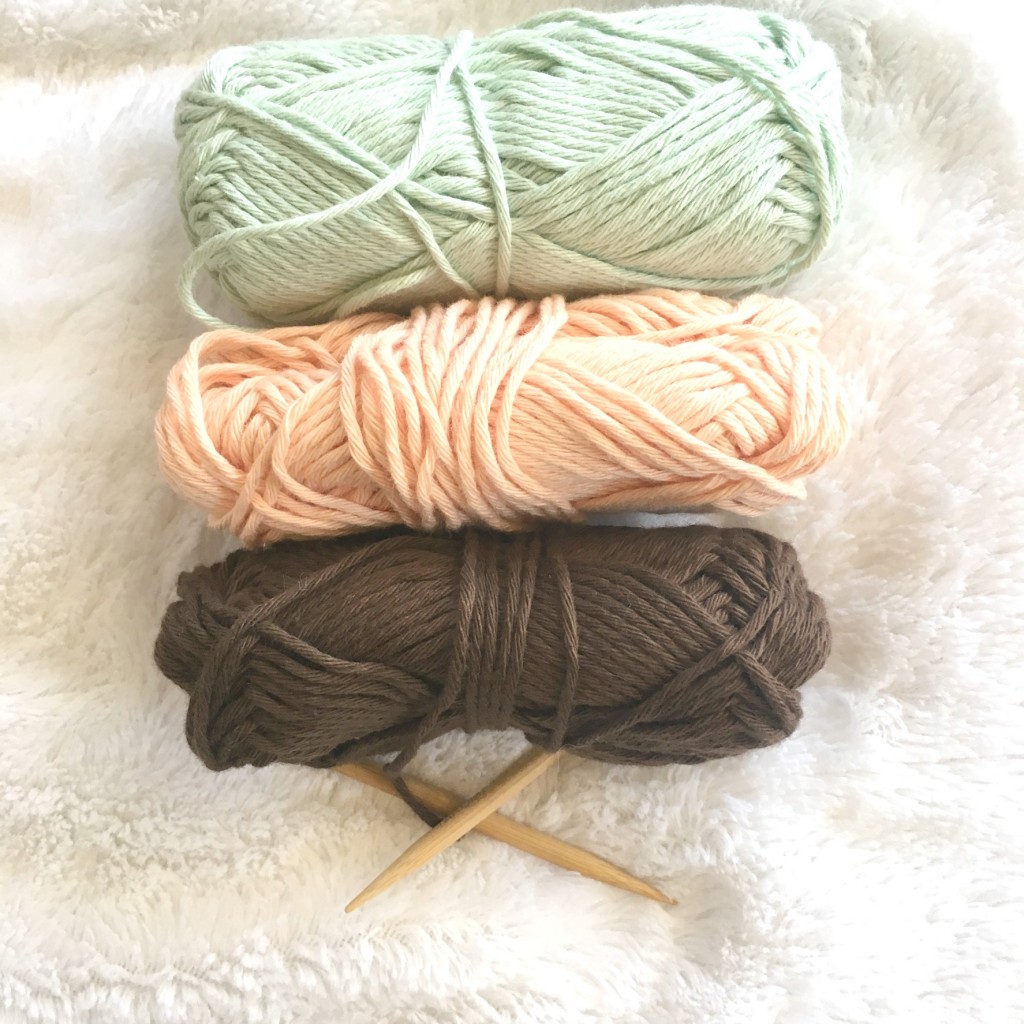 Pattern:
Cast on 14 stitches
Knit (garter stitch) each row until your piece measures 6.5" inches long
Once you have a piece that measures 6.5 inches long, you will begin to work in stockinette stitch. This means you will purl the following row, then knit. Alternate knit and purl rows until you have another 3.0" of stockinette.   At 3.0" inches and ending on a WS row, you will then pick up your peach color yarn.
Next row:
Knit 2 Peach, Knit 1 Brown across row
Next two rows:
Continue in stockinette with Brown
Next two rows:
Continue in stockinette stitch with Peach
Next three rows:
Continue in Stockinette with Brown
Next row:
Pick up your mint color yarn, and alternate knit 1 mint, knit 1 brown across row
Now, continue working in stockinette with brown only until you have 6.5" of stockinette or a total length of 13".
The entire piece should measure 13" in length.
Assembly:
Fold your piece where the garter stitches meet the stockinette stitches.  Whip stitch around three sides of the piece, working through both fabrics. Tie off, weave in ends.  Leave the top open for your sunglasses!
If you know how to crochet, I've made the button closure by simply single crocheting around the upper portion of the case.  When you reach the center back side of the case, chain 12, then reattach chain to case. Tie off, weave in ends.
If crochet isn't your thing, you can simply take a piece of yarn and secure it to the center back, make a loop for your button, and tie it off. Weave in your ends.
Place your button in the center front of the case. With your needle and thread, secure the button to your knitting.  Tie off and cut off excess thread.
This case is just right for sunglasses, but realized that my I Phone fits in it perfectly as well!  I hope you enjoy this easy spring time knitting project!