Hi, this is Jessica from Mama In A Stitch Blog, and today I'd like to share with you how to knit a cable.  I was always intimidated by cables until I finally tried them out and realized how easy they are to complete.  Cable patterns are classic, yet they have also become very trendy! You can find them on everything from knitwear to blankets.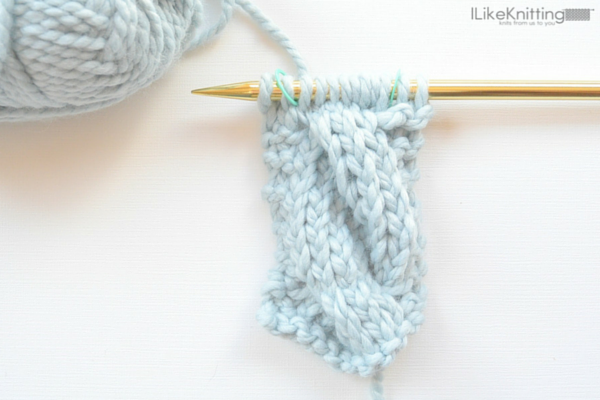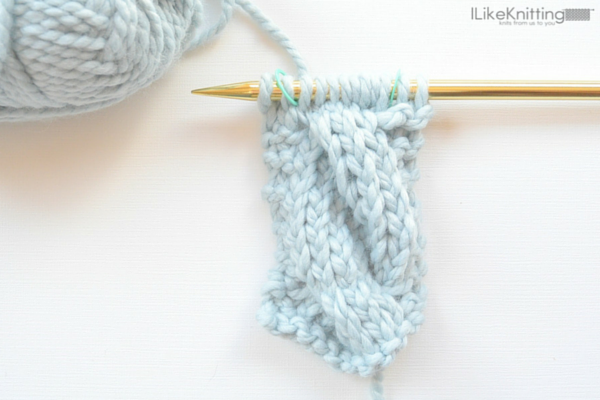 The cable I will show you today is a simple 8 stitch left twist cable.  By simply using knit and purl stitches, and learning how to make a cable row, you can enjoy making patterns with cables.
You will need:
Yarn (I've used Lion Brand Wool Ease Thick & Quick Super Bulky) *You may use any size yarn with the appropriate needles to practice this cable
Knitting Needles (I've used US Size 15 Knitting Needles)
Cable Needle (you can see it pictured below)
How to Knit a Cable
**You can see how to do it with this picture tutorial, but you can also found the written cable knitting tutorial pattern below.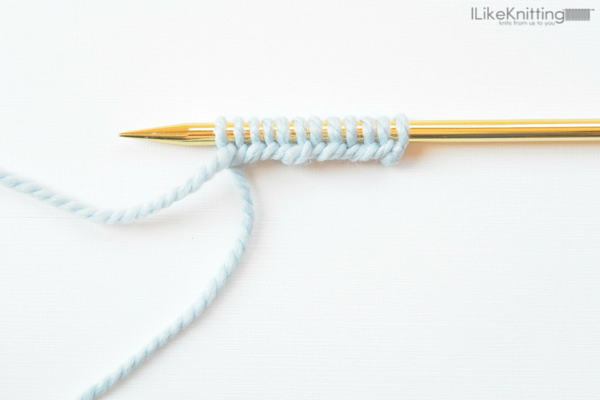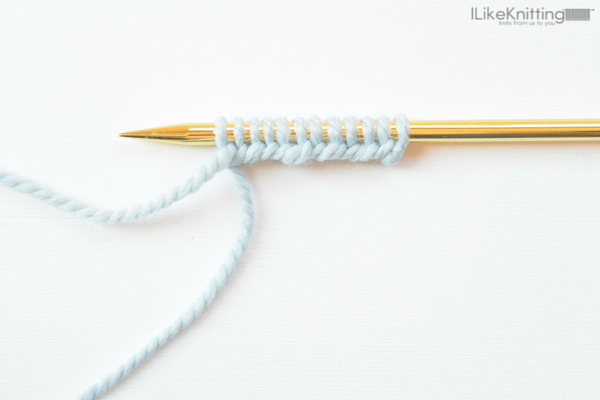 I've knit cast on 12 stitches. I will work a few rows (as seen in the pattern below) and then do my cable row.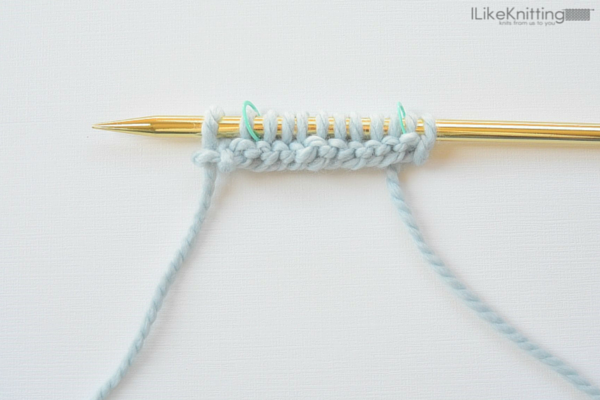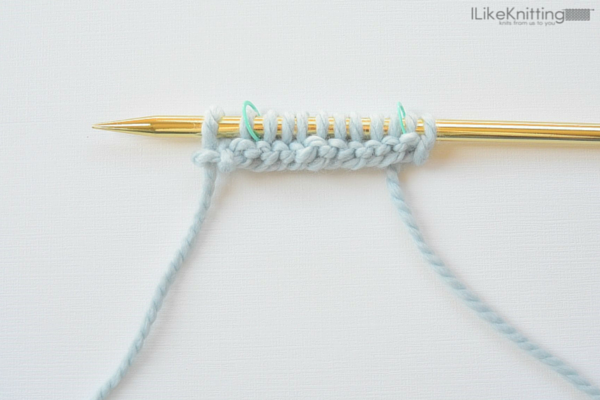 Placed my stitch markers 2 stitches in, with 8 stitches inside the place markers (these 8 stitches will make up my cable).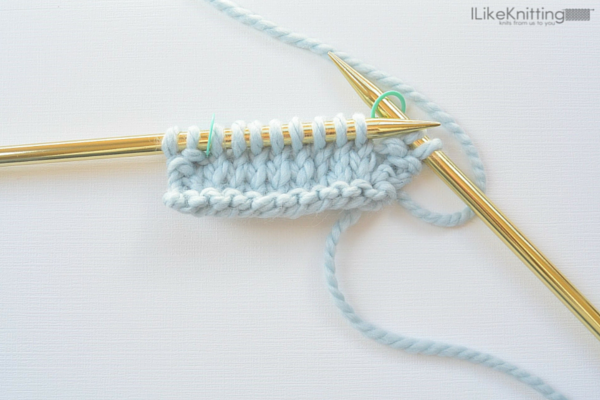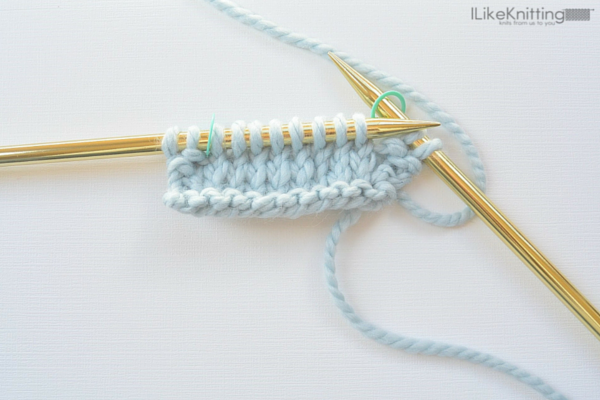 Knitting my next row, I will now prepare to make my cable row as I've reached my stitch marker.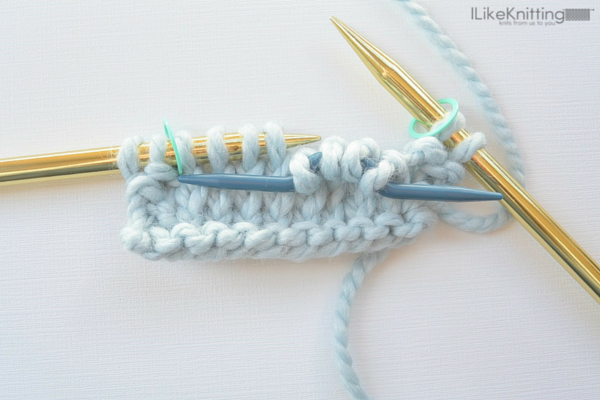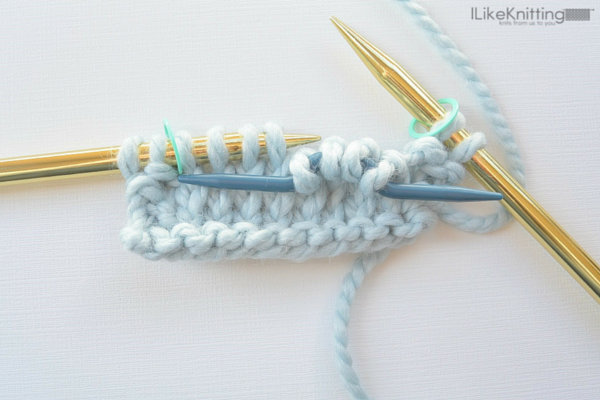 Slide off the first four stitches of the cable section onto the cable needle.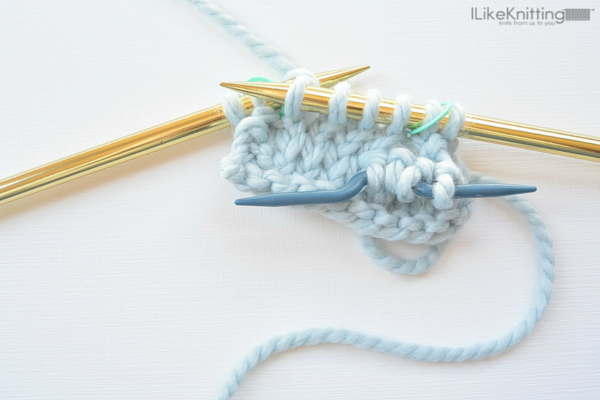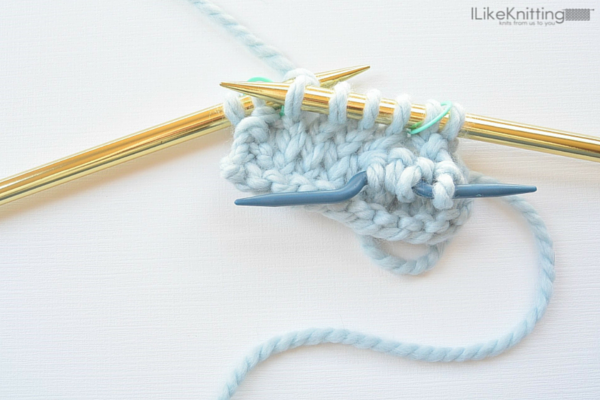 With the four stitches held in front on the cable needle, knit the following four from your knitting needle just as you normally would.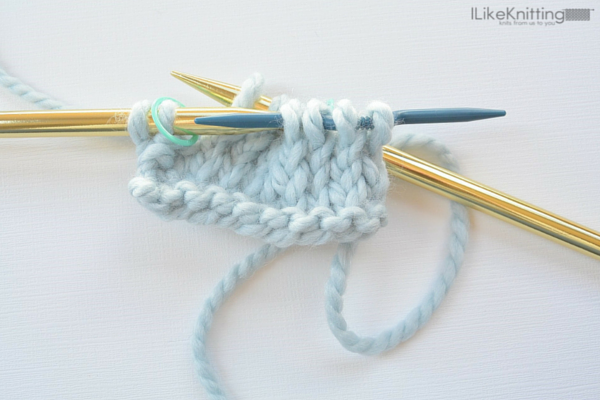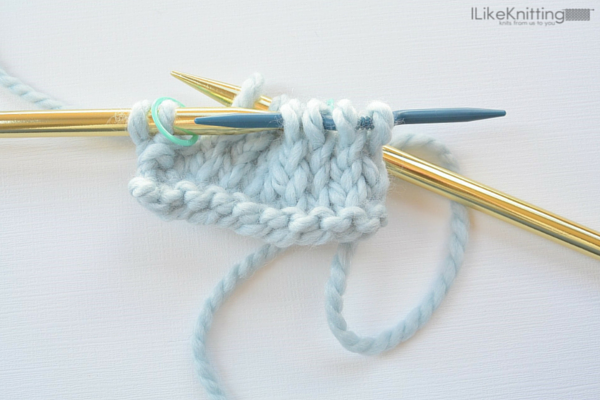 Now slide the stitches from your cable needle back onto your knitting needle. (Some people knit them right off of the cable needle. That's fine too!)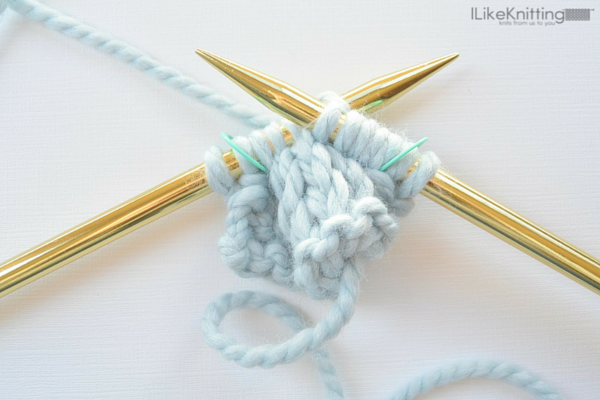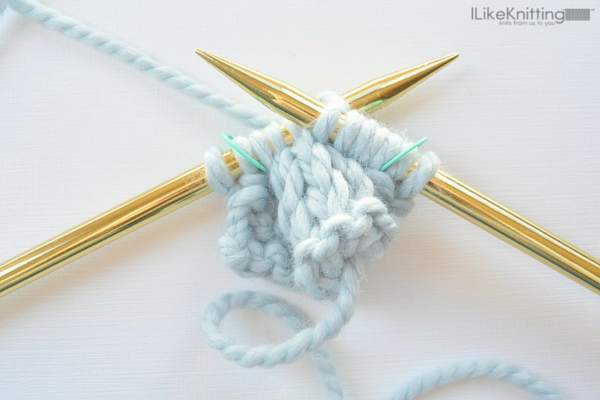 Now knit those four stitches just as normal off of your needle.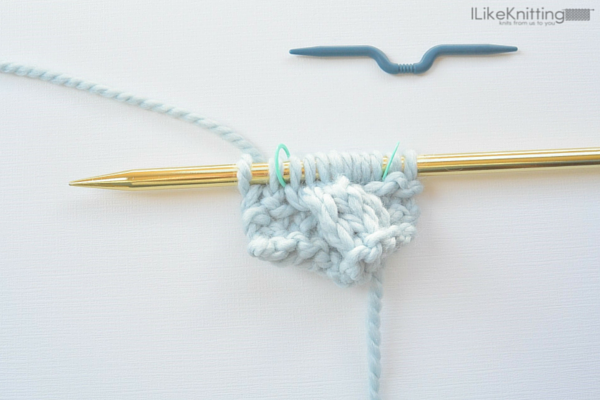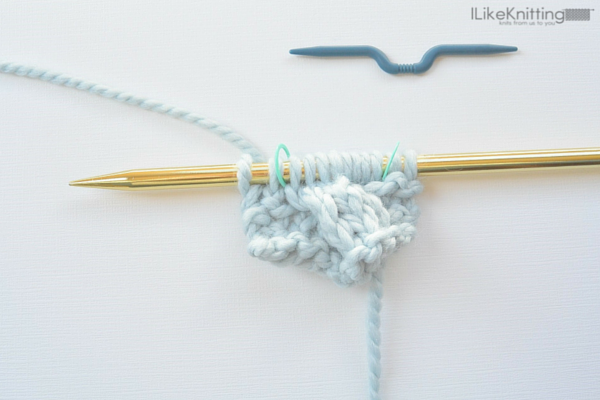 Finish your row. Congrats, you've finished your cable row! The rest is easy.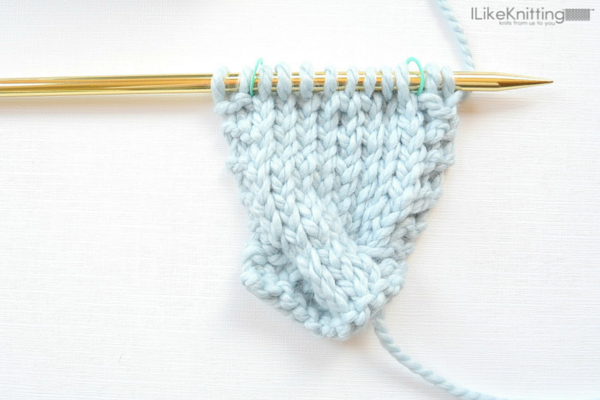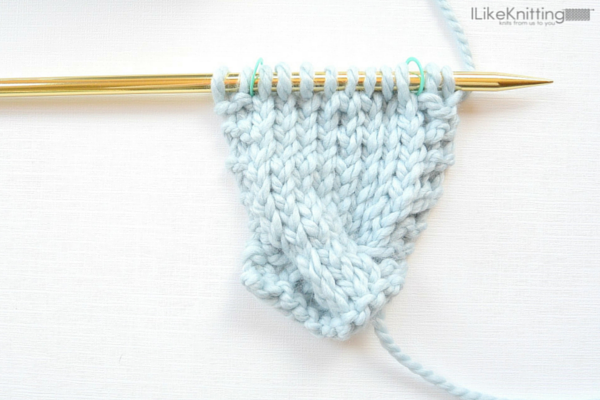 Continue the pattern. This one has 9 rows of stockinette between each cable row.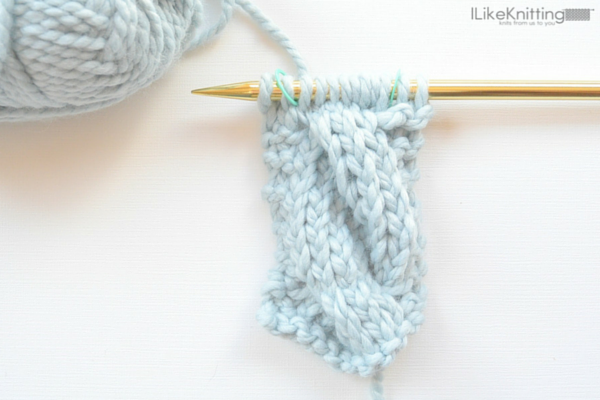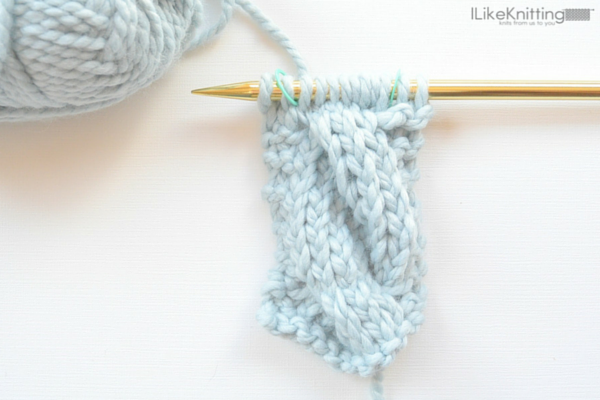 Make another cable row as the pattern calls for. You can see that you're forming a beautiful cable! It's that simple!
Abbreviations:
K – knit
P – purl
4/4 LC – this means the left stitch cable.  Slide 4 stitches onto cable needle, hold in front, and knit the next four off of your knitting needle, then knit four off of your cable needle or slide them back onto original needle to knit from there.
Pattern for this 8 Stitch Cable with Left Twist:
Knit cast on 12 stitches
Row 1: Knit across (Place stitch markers two stitches in on both sides)
Row 2: K2, p8, k2
Row 3 & 4: Repeat rows 1 & 2
Row 5: K2, 4/4 LC, k2
Row 6: K2, p8, k2
Row 7: Knit across row
Row 8 & 9: Repeat row 6 & 7
Row 10 & 11: Repeat row 6 & 7
Row 12 & 13: Repeat row 6 & 7
Row 14: Repeat row 6
Row 15: K2, 4/4 LC, k2
Repeat rows 6 -15 as many times as you'd like to make your cable longer.
Cables look complex, but they are quite easy, don't you think?  I hope that you can enjoy making cables in some of your knitting projects!