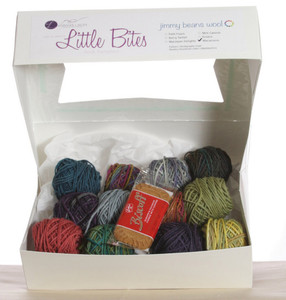 Lorna's Little Bites
Cost: $24.95 per sampler box.
Yarn can be expensive, and there's nothing more frustrating than starting to work up a project before realizing that the yarn you've chosen just isn't going to work. Lorna's Little Bites is a small sampler box that contains twelve different skeins of Lorna's Laces Shepard Sock yarn, all in varying colorways. You can choose your main theme from 6 different options, muted tones to jewel tones to bright tones, for example. With 20oz. per skein to play with, you'll have more than enough yarn to test the colorways and quality with.
From the February 2015 issue