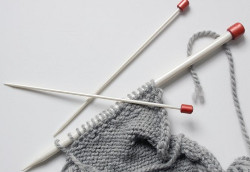 Pearls Knitting Needles
Cost: $5.25-$7.75 per needle set.
Are you a fan of knitting with metal, plastic or bamboo? Every knitter has a preference when it comes to needle material, and each has its own special advantages and disadvantages. The Pearls Knitting Needles are high-quality plastic needles made in the USA. Unlike metal or bamboo needles, these have a slight give, allowing them to be flexible without being too rigid. These knitting needles come in circular and double-pointed variations as well.
From the August 2014 issue