Features
Patterns
Departments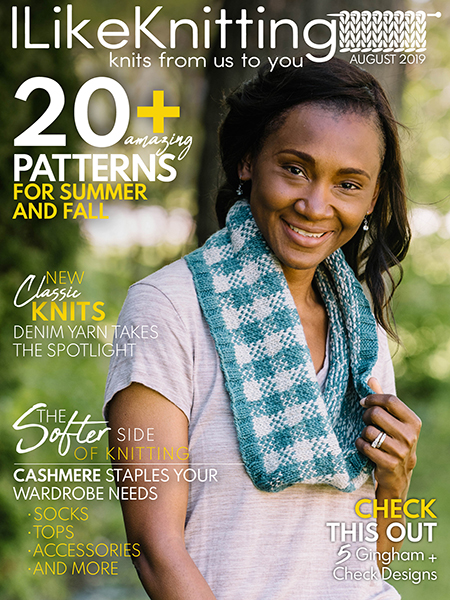 A Note from the Editor
It's already July, but that doesn't mean it's time to say goodbye to summer just yet. We're here to help you soak up every last drop of warmer weather before it ends—and enjoy preparing for the upcoming beauty of the season ahead. Get started by diving into a selection of new patterns inspired by an American classic: blue jeans! Whether modeled after  denim clothing or made with denim yarn, this collection of projects features an eyelet top, a beautiful shawl, a patchwork tote, a cowl, scarf and more – all created with that timeless denim hue in mind.
When you're ready for a little pre-fall luxury, look no further than our Softest Staples section featuring gorgeous designs made with cashmere-blend yarn. Discover new socks, a headband, cardigans, a cozy baseball tee and more in this must-have selection of knits.
And don't miss my personal favorite: the Daybreak Cashmere Wrap Sweater. I promise, you haven't seen sweater construction quite this beautiful before. Inspired by the popular tops of today, this cozy sweater features criss-crossed front panels, a relaxed but flattering fit, and roomy sleeves that create an effortlessly chic look. Pair it with your favorite jeans or your coziest of leggings. It's one of those essential pieces that transitions perfectly from day-time casual to late-night loungewear. You won't regret knitting it! 
Happy summer knitting, 

P.S. Do you love Ravelry? Do you love to knit? Then join our official Ravelry group for knitters. In this group, we'll discuss everything from our favorite needles to upcoming knit alongs. Join right here!
Design submissions and article ideas should be submitted through our submission form.