From bolds to pastels, celebrate summer with something new!
Dear Knitter,
Let's hear it for Summer! Sunny days, warm nights — and lots of great projects to knit!
Let's take a look inside the June 2023 issue of I Like Knitting to see what's in store for summer!
Neutral & Chic
Neutral tones go anywhere, with anything. The Haven Colorblock Pullover will become a summer staple for you with its bold blocks of neutral colors and just a touch of lace. Knit this with 100 percent pima cotton to make a lovely, loose-fitting, textured top that's perfect for the beach, the backyard, and beyond. You'll love the effortless drape of this top for a stylish look on warm days with just a bit of a breeze.
We have plenty more beautiful neutrals for you; we've got you covered head to toe:
Seeing Eyelet-to-Eyelet Top
Ivory Roses Tank
Romantic Vineyard Top
Breezy Beachfront Coverup
Sasha Scrunchie
Coconut Beach Raffia Fanny Pack
Carmine Lace Socks
Pops of Pink
Take an easy, breezy approach to warmer weather with our Kailani Breezy Top. This lightweight sweater is a combination of two classic lace patterns; they come together to make a light and comfy sweater that's perfect for a sunset stroll.
We have other pops of pink, from flirty tops to super sweaters:
Pink Lemonade Cardigan
Perfectly Pink Seashell Top
Pop of Pink Scarf
Cora Clutch
Stripe a Pose Sweater
Bubble Gum Top
Emmaline Ruffled One-Shoulder Top
Bougainvillea Flower Scarf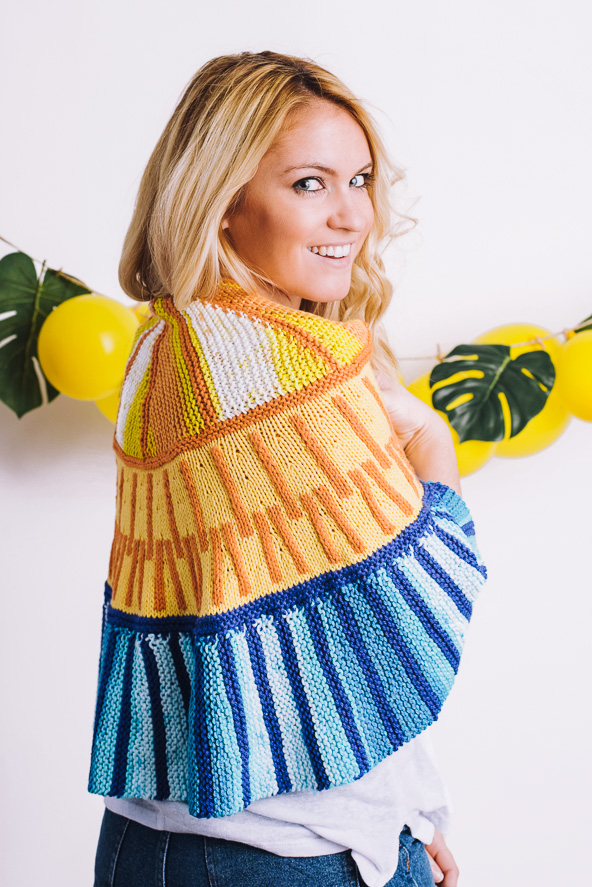 It's Always Sunny
The breezy days of summer call for a scarf with attitude. Our Sunshine Lace Scarf combines vertical lines and an open lacy pattern to create a bold statement piece. Garter stitch marks your borders, giving the lace pattern a perfect frame with just the right weight.
Even on a cloudy day, you can bring your own sunshine with these projects!
All in Good Sun Shawl
Sunrays Shawl
Pineapple Top
Chevron Shoreline Tote
Cassady Tunic
Cora Cabled Tank
Eyelet of the Beholder Scarf
Lemon Dipped Shawl
Caught Your Eyelet Top
Apricot Lace Scarf
Summer Blues
You can always use another tank top for cool summer wear. Try our Blue Crush Tank and channel your inner mermaid with this super chic tank inspired by the sea. With delicately place lace panel, you're going to love how easily this top comes together.
Or try some of our other blue-hued beauties:
Blue Surf Shawl
Sandy Shores Wrap
Harbor Scarf
Knit's a Party Top
Tori Double Flutter Sleeve Top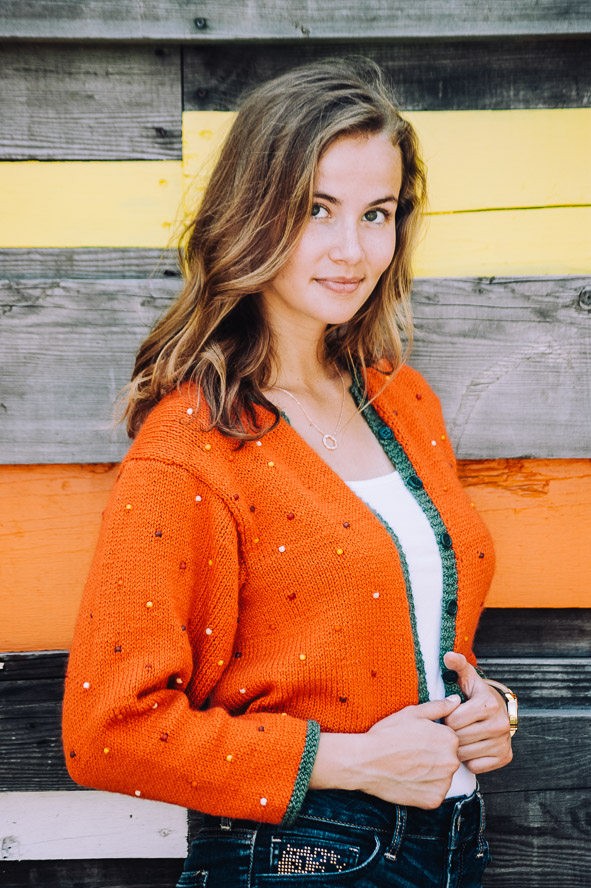 Orange Crush
Summer is the season of the tank top — a quick cover-up that still leaves you free to catch some rays. Our Zaya Tied Tank features flirty straps, playful peplum pleats, and a beautiful smocked bodice. This is not a plain tank! This intermediate pattern gives you a great excuse to head out to the beach or dress it up with a flirty skirt for fun brunch with friends.
Enjoy the bold brightness of orange and make one of these projects, from a cardigan to a clutch:
Orange Blossom Cowl
Orange You Glad Cardigan
Have a Bright Day Envelope Clutch
Beach Sunset Tee
Basketwoven Crescent Shawl
Sienna Tank
Mango Flower Top
Vitamin Chic Bag
Beaded Bliss Socks
Green with Envy
Summer's a great time to have a light and lacy sweater on hand, just to take off the edge of an evening chill or a brisk morning breeze. Our Parodia Sweater has a lace pattern that's perfect for a boho-chic look. This oversize sweater is worked in the round from the bottom up. You're going to love the lacy feel!
We have a lovely assortment of green-themed projects — practical, pretty, and just plain fun!
Emerald Shawl
Island Fern Lace Scarf
Constant Companion Shawl
Mod Maze Pillow
Pineapple Shawl
Lime Wedge Trinket Baskets
Lacy Lime Socks
Peridot Scarf
Lime Breeze Cover Up
Citrus Twist Dishcloths
Leaf Socks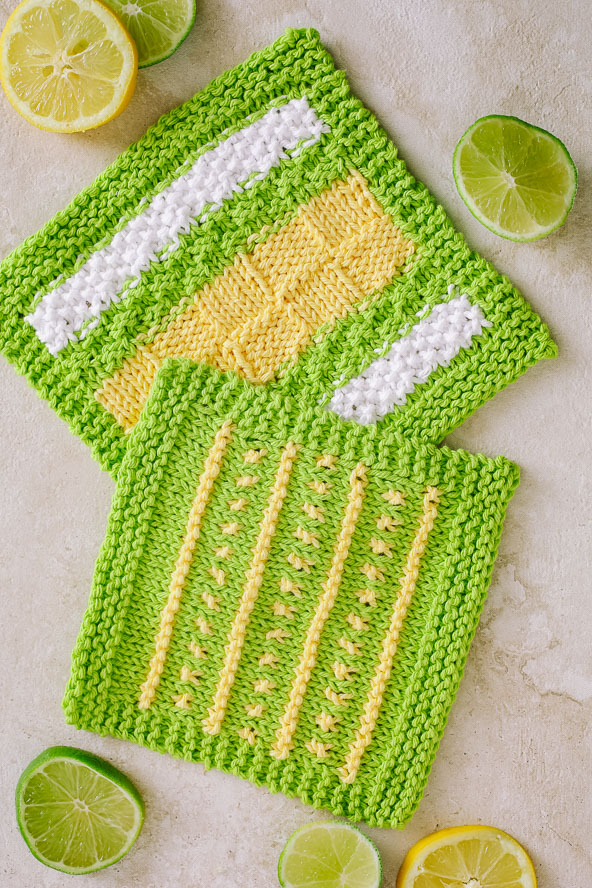 Color Crush: Orchid
The summer colors keep coming, even when the evenings turn cool. You'll love the classic look of our Ingrid Sweater, with its lovely cabling and special cuff and hem details in lifted-knot rib stitch. Knit this sweater in the round from the bottom up, and shape it to suit you — fitted or boxy. Use luxurious alpaca/silk yarn to make this sophisticated sweater, and you'll have a classic wardrobe piece for years to come.
Keep this luscious color around you with projects to wear or for home décor:
Sugar Stripes Pillow
Romantic Lace Poncho
Hadley Checkerboard Brioche Scarf
Cupcake Party Afghan
Interlaced Diamond Top
English Lavender Scarf
Summer Rain Scarf
The June 2023 issue of I Like Knitting is packed with patterns that are bound to become your new seasonal favorites. Welcome the warm weather with some beautiful new projects!
Each one of the patterns in I Like Knitting comes with everything you need to finish your project:
A full list of all the yarns and tools you'll need
Row by row instructions
Special stitch instructions
Pattern notes
Detailed, full-color photography
There's something for knitters of all experience levels in the June 2023 issue of I Like Knitting. And if you're still craving more creative projects ideas, you have immediate access to our complete library of more than 700 patterns, expert tips and tutorials, along with many more special collections, including The Knit Mitten Collection, The One-Skein Knitting Collection, The Vintage Knits Collections and The Knit Hat Collection. It's all yours with your membership in the I Like Knitting Gold Club.
We have 65 bold and beautiful projects in our June 2023 issue. Which one will you cast on first?