Ring in spring with some sweet new knitting!
Dear Knitting Friend,
Get ready for your little ones to do a hoppy dance in style with handknit wearables. Lambs, chicks, and, of course, bunnies romp through our Easter Collection from I Like Knitting! Make something new and totally adorable for your favorite peeps with these patterns that are sure to please. We have patterns for all skill levels, and the level of cuteness is off the charts! Let's take a look!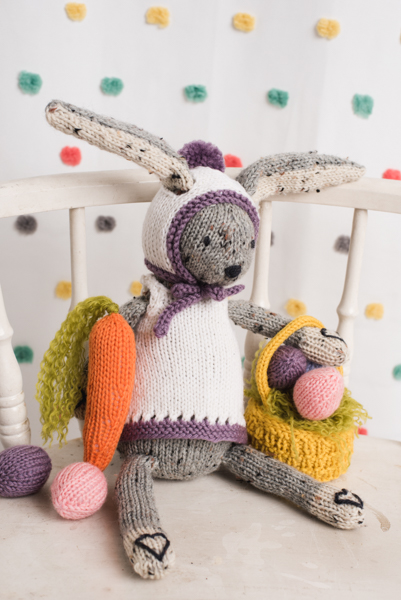 Some Bunny to Love
If you take a quiet walk through the woods, you just might spot Woodland Bunny taking a nap in the dappled sunshine. This adorable bunny has "love" written all over her — all her paws have little hearts on them. Make sure she stays cozy and warm on chilly nights, and make her a little hat. When Easter rolls around, it's time to welcome Woodland Bunny — Easter Version, complete with Easter basket, eggs, a crispy carrot, and a special Easter sweater with matching hat. Of course, there's no rule that says an Easter basket has to be a basket. Carry all your Easter treats in this adorable Flopsy Bunny Bag. The ears fold over to make a handle. And when Easter's over, this bunny will make a cozy carry-all for somebunny special.
Sunday Best
Come Easter Sunday, little ones should look their best. Our Dandelion Stitch Easter Dress is just the thing for an egg hunt or family dinner. With sweet, whimsical dandelions sprinkled across the bodice, this dress is as adorable as it is comfortable. When you need a little something to take the chill off, our Daffodil Ruffled Cardigan is just the thing. Customize the length for your special someone. Whether you keep it cropped to show off a full-skirted dress or make it longer to go with a more casual outfit, those ruffles will bring a smile to everyone's face. And ruffles make for great twirling!
Our Baby Bunnies Cardigan would make the Easter bunny hop with joy. This adorable A-line cardigan has a wrap-around row of adorable bunnies at the bottom of the sweater. Who knew cabling to bring out such cuteness? Top off this charming sweater with our Little Bunnies Foo Foo Hat with a delicate row of rabbits along its brim. This sweet hat looks great with or without a pom pom, and the colorwork pattern is easy enough even for beginning knitters! Need another easy pattern? Try our Sleepy Bunny Sweater with raglan sleeves, contrasting ribbing, and a sweet fuzzy bunny to keep baby company.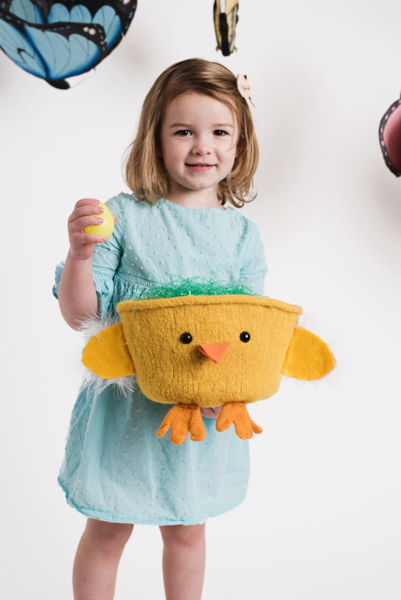 Easter Home
You don't have to settle for the same-old, same-old when it comes to Easter baskets. Our Cheerful Chick Basket is a lovely felted basket, complete with adorable detailing for the wings, beak, and feet. This is a unique basket that children will look forward to seeing filled with treats year after year. Keep Peter Rabbit close to your heart all year long with our Peter Rabbit Pillow + Blanket Set. You can start small with just the pillow to perfect your intarsia skills, then move on to add the blanket. Such a cute addition to any child's room! And when it comes time to make a snuggly friend for that special little one, our Lily Lamb Tote does double duty: she's a sweet and huggable friend, and she converts to a child-size tote, perfect for Easter egg hunts and more. Knit in the round with a removable "fleece," this little lamb is as versatile as she is adorable.
Hop on over to our Easter Collection from I Like Knitting and start something new. Bunnies, baskets, sweaters, and more — which project will you cast on first?
But this is just a fraction of what you'll get with an I Like Knitting Gold Club Charter Membership—your membership includes subscriptions to the I Like Knitting Magazine Club and to the I Like Knitting Collections Club; full and immediate access to the digital library of 5+ years of magazine issues with 600+ knitting patterns and articles; step-by-step instructions for patterns; and video tutorials and full-color photographs for details about projects and stitches. Plus, FREE access to our two premium on-demand knitting videos, 9 Knitting Tutorials: Tips and Tricks for Knitters Old and New and Knitting Outside the Box: 3 Unexpected Stitch Tutorials.
Your I Like Knitting Gold Club Charter Membership gives you access to all of our knitting patterns and content, 24-hours-a-day on whatever device you prefer —desktop, or laptop. And the content is fully searchable, so you can find exactly what you want—when you want it—at your fingertips in an instant.
Here are just a few of the tantalizing patterns sitting in our library right now—and all contained in a single issue—to which you'll get instant access when you join the I Like Knitting Gold Club as a Charter Member:
Apple Leaves Sweater
Crisp Morning Cardigan
Spooky Cute Kitty Costume
Campfire Coals Cow
Macintosh Vest
Aspen Sweater
Cranberry Twist Sweater
The Touchdown Knit Scarf
Tailgating Messy Bun Hat
Alpine Cardi
Mountain Air Infinity Scarf Knitting Pattern
And the library of photos and video tutorials is gorgeous, inspiring, and practical— showing you exactly how your finished patterns should look and exactly how to execute stitches and patterns, even the difficult ones!
When you join our #1 community for knitting-lovers, you'll receive all of the handy benefits that knitters everywhere have been buzzing about:
You'll learn new stitch techniques with a variety of patterns that range from beginner to advanced.
You'll find expert tips and tricks that will help you achieve professional results.
You'll start getting requests for your stunning knitted items from your family and friends.
You'll have access to renowned designer patterns and tutorials from all over the world.
You'll never worry about mistakes in patterns or ripping out your progress because our tech-edited patterns are curated from trusted designers in the knitting community.
You'll be connected to an online community of knitters who are just as passionate as you!
Don't miss out on this exclusive Charter Membership offer to get all of the above and more!
When you activate your I Like Knitting Gold Club Charter Membership today, you'll get access to everything we have about knitting—all access and all the time:
A full year of upcoming issues of I Like Knitting magazine—Including 150+ exclusive designer knitting patterns and articles with step-by-step instructions, video tutorials and full- color photography for details of projects and stitches
Instant access to EVERY issue we've ever published—a vast library of more than 5 years of issues with 600+ patterns and articles
A full-year's subscription to the I Like Knitting Collections Club that includes 60 NEW and trendy patterns refreshed annually
Regular e-newsletters, full of the latest knitting tips & tricks and even more FREE patterns
NEW! Free Bonus! Instant access to our just-released on-demand streaming knitting videos, 9 Knitting Tutorials: Tips and Tricks for Knitters Old and New and Knitting Outside the Box: 3 Unexpected Stitch Tutorials—featuring patterns and tips for knitters of every skill level.
And here's what you don't get when you become a Charter Member of the I Like Knitting Gold Club—advertisements! That's right, we're advertising-free, so that we can devote more time, space, and effort to helping you be an awesome knitter.
All of this is available to you—right now—when you claim your I Like Knitting Gold Club Charter Membership. This special offer includes FREE unlimited access to our two streaming knitting videos, 9 Knitting Tutorials: Tips and Tricks for Knitters Old and New and Knitting Outside the Box: 3 Unexpected Stitch Tutorials…our gift for signing up now!
No other online magazine in the world has everything about knitting, all in one place and vetted and curated for your easy access and use.
Knitters everywhere have been enjoying I Like Knitting magazine for years, and now it's better than ever with more benefits, patterns, and content than you could ever imagine—with an I Like Knitting Gold Club Charter Membership.
When we first put this new club together for knitters like you, your needs and desires were top-of-mind. We're the ultimate resource and network for knitters everywhere, offering original designer patterns and content from authoritative and respected voices in the knitting world.
I think you'll agree that this really is an unusual offer, plus FREE access to our two premium streaming knitting videos when you become an I Like Knitting Gold Club Charter Member today! It's an incredible deal that you don't want to ignore!
Why not be among the select group of knitters to join us today and benefit from all the valuable information about knitting that you can't get anywhere else?
Become an I Like Knitting Gold Club Charter Member today—while this special offer lasts!
Happy knitting,

Caitlin Eaton
Editor, I Like Knitting Magazine
P.S. – Please join today so you can take advantage of this special Charter Membership offer, plus two FREE knitting videos!