Dear Knitting Friend,
Here at I Like Knitting, I have to admit we've been caught up in the magic of the music of Taylor Swift and her mesmerizing song "Lavender Haze." The office is humming — and it's not just because we're really busy!
Knitting is a great way to unwind, and it's even better with music, which is what inspired our Lavender Haze Knitting Collection from I Like Knitting!
Sweet Sweaters
A cotton blend yarn is the ideal starting place for our lightweight Wild Lavender Sweater. Three-quarter, bell-shaped sleeves take on an airy flare with the use of needles in three different sizes to create the delicate effect; you'll do the same with the lacy hem. This sweater is worked mostly in the round, giving you a seamless style for spring and summer.
The summer colors keep coming, even when the evenings turn cool. You'll love the classic look of our Ingrid Sweater, with its lovely cabling and special cuff and hem details in lifted-knot rib stitch. Knit this sweater in the round from the bottom up and shape it to suit you — fitted or boxy. Use luxurious alpaca/silk yarn to make this sophisticated sweater, and you'll have a classic wardrobe piece for years to come.
Beginning knitters often shy away from sweaters, but there's no need with our French Lavender Cardigan. This cardigan knits up quickly with bulky yarn and creates a dramatic silhouette with its flared peplum and batwing sleeves.
Other sweater projects in our Lavender Haze Knitting Collection include our Lavender Tea Cardigan, Isadora Sweater, and Fiorella Lace & Cable Sweater.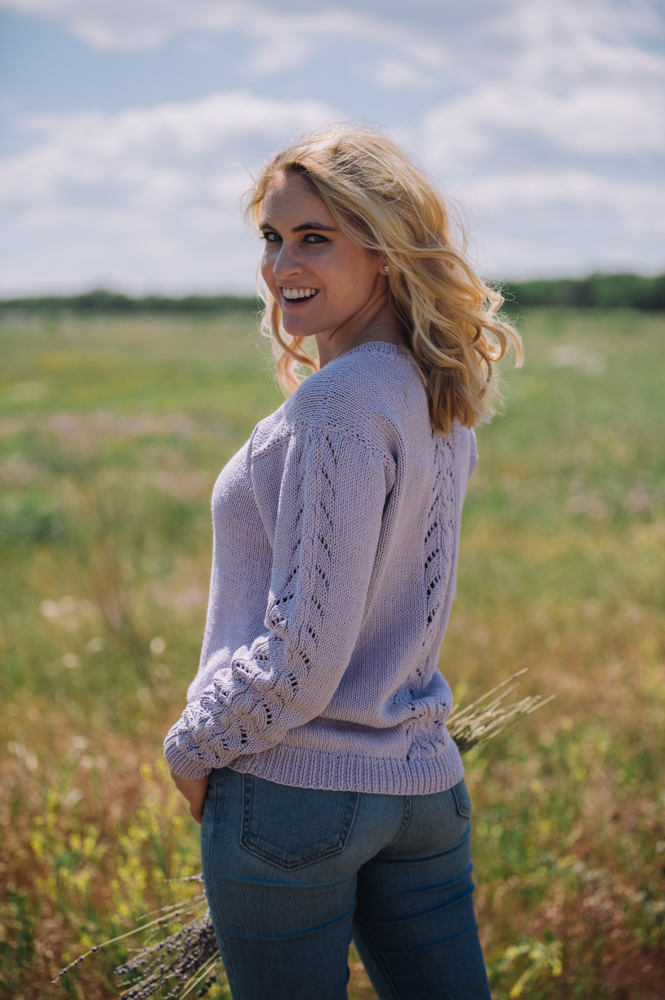 Delightful Draping
Take the simple chevron to new heights with our English Lavender Scarf. This scarf is lightweight but perfect for dramatic draping, with delicate double rows of chevrons. You'll make this beautiful scarf in two sections, then graft it together using the kitchener stitch (see our tutorial for details). This is an excellent project for knitters at the intermediate level and beyond.
The Honey & Lavender Shawlette is a shallow crescent-shape design that will look stunning over a spring outfit. This shawl features a bold flame lace pattern with a stockinette stitch body.
The celesta is the instrument Tchaikovsky made famous in the Dance of the Sugar Plum Fairy. Our Celesta Crescent Shawl has a striking silhouette with a luxurious band of lace around the edge. This crescent-shaped shawl has just the right balance of weight so that it sits on your shoulders with no need of a shawl pin. Or consider wrapping yourself in our Lavander Shawl or our Alyssum Wrap.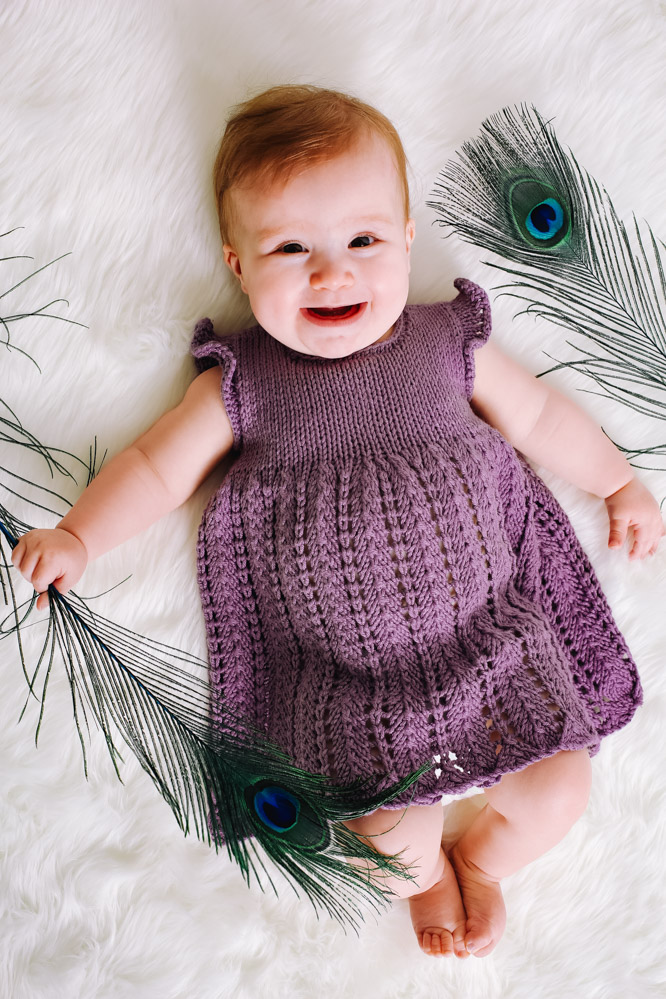 Top It Off
Whether you're looking for something casual, something dressy, or something for the youngest member of the family, our Lavender Haze Knitting Collection has some great choices.
For an evening out —maybe to a concert — you can't go wrong with our Lavish Lavender Blouse. The long sleeves feature a bold, daring slit, and the neckline is almost off the shoulder. A diamond motif on the side provides visual interest and a beautiful line. This sweater is perfect for a summer party.
Take a simple tee, add a little lace, and you have a super top that goes way beyond basic. Our Interlaced Diamond Top features a wide, round neckline, short sleeves, and a delicate panel of diamond-shaped lace motifs.
The Lavender Feather Dress is fit for a princess — you'll love the sweet and soft feather pattern you work in the round — it may be hard to make just one!
Treat yourself to something new in lovely lavender — sing your heart out and dance like nobody's watching. Start something new with our Lavender Haze Knitting Collection!