Knit shawl patterns are the perfect accessory for any outfit. Whether you are looking for a shawl to keep the chill off at the office or a romantic shoulder cover for a date, you'll find something perfect here. The beautiful thing about knit shawl patterns is that you can completely change the look of a shawl by simply choosing a different color to knit it up with. Something that looks casual and fun knit up in a bright color can instantly transform into a romantic knit shawl to wear on date when knit up in black, white or metallics.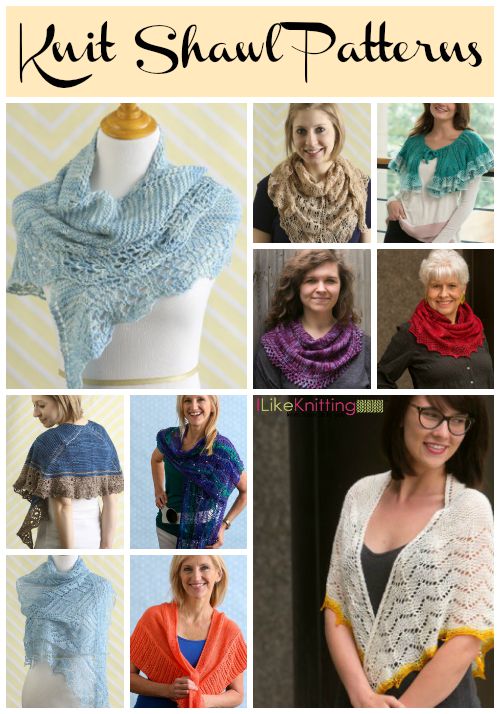 If you are looking for a shawl to knit for a friend, or perhaps as a prayer shawl, these patterns are all great choices. Most are very easy and knit up quickly, so you'll be able to get one done in no time. If you know someone who is going through a rough time or an illness, pick one of these shawls and knit it up in a special yarn that you know they'll love. While you are working, think healing thoughts and say a prayer. It's believed that these thoughts and prayers then become woven into the fabric of the shawl and are then wrapped around the shoulders of the recipient when they need it most. Shawls given in a time of need often become the most treasured gift and bring a smile whenever they are worn.
 Knit Shawl Patterns
---
Splendid Berries Shawl
Beautiful colors and a lacy edging give this shawl that extra little something that will make it your favorite knit shawl pattern.
Candy Apple Sideways Shawl
A bright red triangular shawl that features a scalloped, lacy edging and fun cables for a sweet twist on a traditional pattern.
Lotus Shawl
The perfect pattern for the lace lover who is looking for a challenge.
Metal Heart Shawl
This shawl has a semi-circular shape, long length and a top that's designed to curl perfectly every time.
Ocean Spray Shawl
Knit up this long triangular shawlette and wear either as a traditional knit shawl or as a scarf. It's just the right length to wrap around the neck once.
Cranberry Dreams Shawl
Just one skein of yarn makes this dream of a shawlette.
Winter Tide Beaded Shawl
The pattern is delicate yet dense and provides perfect warmth on those chilly winter evenings.
Sandy Skies Shawl
A unique crescent-shaped shawl that is easy to wear, as it stays on without a shawl pin.
Lace Dance Shawl
Simple and elegant, worked from the center-back down, you'll be surprised how easy this shawl is.
Flirty Ruffled Capelet
A fun front tie closure and optional ruffles for texture make this flirty capelet perfect for the spring chill.
Willow Crescent Shawlette
Dress up any outfit with this easy to knit shawl pattern.
Sensational Seaweed Wrap
One ball of a fancy yarn and some beading gives a very polished look to a very simple to knit wrap.
 Lemon Dipped Shawl
Beautiful and delicate, this lacy shawl gets an added bit of interest with the use of an ombre yarn.